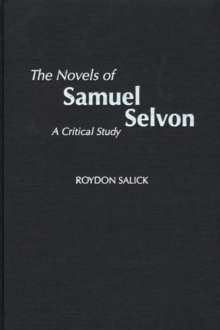 The Novels of Samuel Selvon : A Critical Study
Hardback
Description
The author of such works as A Brighter Sun (1952), The Lonely Londoners (1956), and The Plains of Caroni (1970), West Indian novelist Samuel Selvon is attracting growing amounts of scholarly attention.
Nonetheless, criticism of his works has largely been imbalanced, with most scholarship focusing primarily on his language.
This book corrects that imbalance by placing Selvon's novels within historical, sociological, and ideological contexts.
A new interpretation of Selvon's achievement as a novelist, the volume looks, for the first time, at his works in terms of categories of novels--peasant, middle-class, and immigrant. The book demonstrates that each category is different from the others, and that novels within categories are similar.
Thus it provides a coherent vision of Selvon's canon.
It illustrates, as well, the development of Selvon's philosophy of West Indians as peasant, bourgeois, and immigrant.
In doing so, it explores the significance of ethnicity in his works and discusses Selvon's imaginative apotheosis of the Indo-Trinidadian peasant and the diminution of the Afro-Trinidadian immigrant.
The volume also studies Selvon's fictional and rhetorical techniques and argues that his works range from Bildungsroman to picaresque to epic to satire.
Free Home Delivery
on all orders
Pick up orders
from local bookshops
Also by Roydon Salick