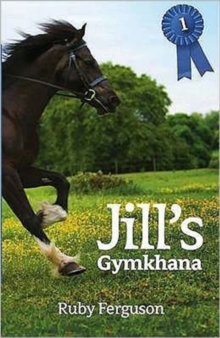 Jill's Gymkhana
Paperback
Information
Format: Paperback
Pages: ill
Publisher: Fidra Books Ltd
Publication Date: 30/10/2009
Category: General
ISBN: 9781906123208
Free Home Delivery
on all orders
Pick up orders
from local bookshops
Reviews
Showing 1 - 2 of 2 reviews.
Review by phoebesmum
16/06/2015
The first in the 'Jill' series, reissued in 2009 by Fidra Books with the full, original text, unmodernised and un-Bowdlerised, and the Caney illustrations. This tells the story of how Jill Crewe and her mother move to Chatton in straitened circumstances – despite which they are able to buy a cottage with a paddock attached – how Jill falls in love with a black pony in a nearby farmer's field, and how, through a series of chance encounters and lucky coincidences, she is able to buy him, keep him, learn to ride him and, by the end of the book, become the star of the Chatton Show. Along the way we meet the cast of characters that will become familiar throughout the later books: Jill's best friend Ann, her dreadful cousin Cecilia, her riding mentor, the wheelchair-bound Martin Lowe (it's interesting how matter-of-factly and sympathetically the author deals with Martin; somehow it seems a far more modern attitude than it probably really is). Written in 1949, the book shows its age in the usual way of vintage children's books: the sheer amount of freedom that the children are routinely allowed and, contrastingly, how terrifyingly strict Jill's mother is in some respects. Notably, in spite of their poverty and her insistence that Jill must pay for Black Boy's upkeep herself, she refuses to allow Jill to take money for walking some smaller children to school, and is all set to refuse a gift from Martin – who is pretty strict himself – because it's too generous. As recently as 1949, the Crewes' cottage has no electricity and gas only downstairs (it does at least have a bathroom though), and Jill receives exactly one Christmas present from her mother – a fountain pen. What would they have made of today's children with their sacks full of MP3 players and Wiis? It's also a terrifying reminder of how badly the currency has become devalued: Jill's mother receives fifty guineas for the serial rights of one of her books, out of which Jill is able to buy Black Boy for £12! Jill, by the way, is 11 at the beginning of the book, and, in spite of a passing mention toward the end that she'll soon outgrow him, she still has her beloved Black Boy at the end of the series, when she's 16. One can only assume that she didn't, in fact, grow very much, or that she shortened her stirrups and rode with her knees around her ears!
Review by RubyScarlett
16/06/2015
This is a very good entry into pony fiction, if not completely original. I did like that Jill really struggles to get her own pony and everything that's needed to keep him happy. Her family isn't well-off and the lengths she has to go to in order to have some nice jodphurs, boots, feed for her horse or a stable, is something else and a nice change from most pony books where a lot of the cost of keeping a horse is barely touched upon. The writing could be improved but this is a good story.