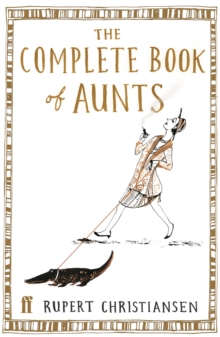 The Complete Book of Aunts
Hardback
Description
An aunt is not someone to be rationalised or theorised.
A nice aunt is an object of easy affection, at an emotional remove from the fierce, complex, passionate and difficult love that encumbers parenthood: her jollity and generosity free of the terrifying fears and responsibilities that bear down on a mother.
A nasty aunt tends to be one who has had surrogate maternal status forced upon her - a subject explored by Jane Austen in Mansfield Park and by P.
G. Wodehouse in The Inimitable Jeeves. But whether nice or nasty, bossy, timid, disappointed or eccentric, an aunt offers her brood of nieces and nephews another angle on the world and another insight into it.
Of all our blood relations, she offers the most potential for uncomplicated friendship.The idea for this book came to Rupert Christiansen after the death of one of his own aunts, 'an admirable woman of the old school who saw it as her auntly duty to guide and cherish, as well as entertain and indulge.' His Complete Book of Aunts is a hugely entertaining and touching exploration of aunts in all their guises and varieties, culled from real-life, literary and historical sources.
No book has ever previously explored this subject, which is of universal relevance and fascination.
Information
Format: Hardback
Pages: 272 pages
Publisher: Faber & Faber
Publication Date: 01/10/2006
Category: Family & relationships
ISBN: 9780571226559
Free Home Delivery
on all orders
Pick up orders
from local bookshops