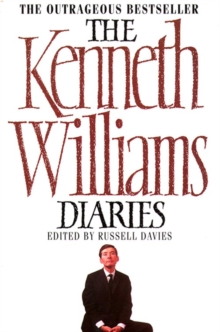 The Kenneth Williams Diaries
Paperback
Description
`I'll put you in my diary!' comedian Kenneth Williams was known to threaten on occasion, although tantalisingly he kept the journal to himself during his lifetime.
Here at last, in one spellbinding volume, are four million words of it. For more than forty years, from his sixteenth birthday until the eve of his unexpected death in 1988, the beloved actor and outrageous `Carry On' star Kenneth Williams kept a candid diary.
Devastatingly honest about himself, he is equally unsparing in his verdicts on his fellow man.
In his descriptions of Tony Hancock, Maggie Smith, Joe Orton and countless others, his waspish sense of humour, love of anecdote and ear for dialogue are given full rein. Malicious, hilarious and harrowing, `The Kenneth Williams Diaries' are a unique portrait of one of Britain's most popular - and most misunderstood - performers.
Information
Format: Paperback
Pages: 864 pages
Publisher: HarperCollins Publishers
Publication Date: 29/04/1994
Category: Films, cinema
ISBN: 9780006380900
Free Home Delivery
on all orders
Pick up orders
from local bookshops
Reviews
Showing 1 - 4 of 4 reviews.
Review by uryjm
16/06/2015
"Infamy, infamy! They've all got it infamy." Too true, that was often Kenneth's view of the world, and he wrote most of it down in unflinching detail. An inspiration for fellow scribblers like myself (although I'm glad I don't note my "barclays" in my diary, all the same!) This took over a month to read, but I enjoyed it and it pleased me to see that a diary can be interesting in itself even when there's seemingly "nothing to report". Overall, it's reporting a life, and given it's the only one we'll get, it's interesting and unique just for that alone.
Review by ivanfranko
16/06/2015
Splendidly edited diaries that illustrate the flaws and frustrations of the best of English comics since World War 2.One hears that fantastic sonorous voice in so many of the entries, be they complaints about "bum problems" or dreadful holiday experiences with his ageing mother.
Review by Judderman
16/06/2015
Has kept me company in the loo for the last few months. Don't think he would have liked the idea of that. Very interesting book. Extremely contradictory personality. Must have driven almost everyone he knew mad with rage at one time or another. I was one of the morons who said hello to him once and he was polite to me.
Review by cappybear
16/06/2015
A consistently readable and absorbing account of the life of a much-loved comic. Williams's waspish, contradictory personality, his loneliness and death have been well-documented; but the book also gives us an idea of the plays - probably long forgotten - that were a standard part of the repertoire in the years following World War Two and is a reminder - perhaps best forgotten - of the dismal TV game shows and sitcoms popular in the 1970s and 1980s. The later entries with Williams struggling both with poor health and his frail, cantankerous mother, are rather sad and the references to suicide that weave throughout the diaries do seem to suggest that he took his own life. Recommended reading for fans and admirers of Williams and his work.