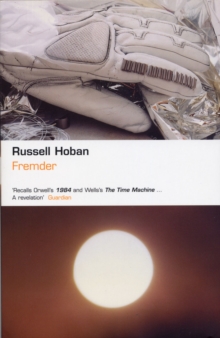 Description
Fourth Galaxy, 4 November 2052: in the black sparkle of deep space a figure in a blue overall tumbles over and over as it drifts towards the planet Badr-al-Budur.
No space suit, no helmet, no oxygen. He can't be alive, can he? But he is. First Navigator Fremder Gorn is the only survivor when the Corporation tanker Clever Daughter disappears.
Nobady knows how he did it, and everybody, including Fremder himself, wants to know.
Caroline Lovecraft, Head of the Physio/Psycho unit at Newton Centre, Hubble Straits finds that intimacy doesn't lead to answers and Fremder's own memories are resolutely obscure.
Fremder's name means stranger, and his story, as one would expect from Russell Hoban, is full of strangeness and brilliant imagery.
Information
Format: Paperback
Pages: 196 pages
Publisher: Bloomsbury Publishing PLC
Publication Date: 01/10/2003
Category: Science fiction
ISBN: 9780747561644
Free Home Delivery
on all orders
Pick up orders
from local bookshops
Reviews
Showing 1 - 1 of 1 reviews.
Review by CliffordDorset
27/08/2015
Hoban has a mind that is unusual, to say the least, and Fremder lives up magnificently to his reputation. His flights of fancy are always highly literate, and they are therefore stimulating to the reader, whatever the reader may perceive as the subject of the book. Fremder is superficially that bastard of a concept, science fiction, but that is a form of set-dressing that is essential to encompass Hoban's wild imaginings. Here we have a thoroughly Jewish combination of concepts that manages to treat Elijah in the same breath as Vermeer, popular song and – above all – Bach's intricate fugues. It explores the concept of reality – What is truth, indeed? - in the context of a thoroughly dystopian world in which consciousness, even time travel, is passionately examined. It's a book of wonders and wondering that invites multiple visits, but isn't that what one expects from Hoban. Wonderful!