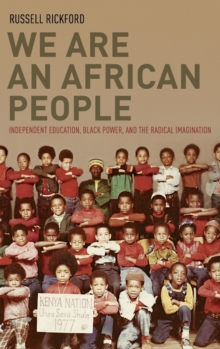 We Are an African People : Independent Education, Black Power, and the Radical Imagination
Hardback
Description
By 1970, more than 60 "Pan African nationalist" schools, from preschools to post-secondary ventures, had appeared in urban settings across the United States.
The small, independent enterprises were often accused of teaching hate and were routinely harassed by authorities.
Yet these institutions served as critical mechanisms for transmitting black consciousness.
Founded by activist-intellectuals, the schools strove not simply to bolster the academic skills andself-esteem of inner-city African-American youth but also to decolonize minds and embody the principles of self-determination and African identity.
In this book, based on his Bancroft Award-winning dissertation, historian Russell Rickford traces the brief lives of these autonomous black institutions created to claim some of the self-determination that the integrationist civil rights movement had failed to provide.
Influenced by Third World theorists and anticolonial movements, organizers of the schools saw formal education as a means of creating a vanguard of young activists devoted to the struggle for black political sovereigntythroughout the world.
Most of the schools were short-lived, but their stories have much to tell us about Pan Africanism as a social and intellectual movement and as a key part of an indigenous black nationalism. A former journalist at the Philadelphia Inquirer, Rickford uses a virtually unknown movement to explore black nationhood and a particularly fertile period of political, cultural, and social revitalization that envisioned an alternate society.
Information
Format: Hardback
Pages: 400 pages, 20 illustrations
Publisher: Oxford University Press Inc
Publication Date: 10/12/2015
Category: History of the Americas
ISBN: 9780199861477
Other Formats
Paperback / softback from £18.99
Also by Russell J. Rickford