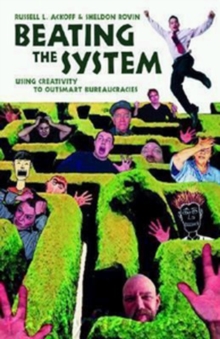 Beating The System - Using Creativity To Outsmart Bureaucracies
Paperback / softback
Description
When was the last time anyone interacted with an organization, a business, a government agency, a school, or a hospital and got a direct and accurate answer to a question or received a desired service without having to weave through a maze of frustrating and infuriating hand-offs?
How often do people attempt to speak to a human in these organizations, but the system wouldn't allow it?
Beating the System is for anyone who has faced the bureaucratic blank wall. The authors explain how systems are designed, how they function (and, particularly, malfunction), where their weaknesses are, and the incentives that drive them - as well as how to be creative in beating a system. Entertaining and informative stories illustrate how each creative strategy is used, and the authors offer suggestions for how organizations themselves can avoid frustrating those they serve and employ.
Information
Format: Paperback / softback
Pages: 192 pages
Publisher: Berrett-Koehler
Publication Date: 30/05/2005
Category: Business & management
ISBN: 9781576753309