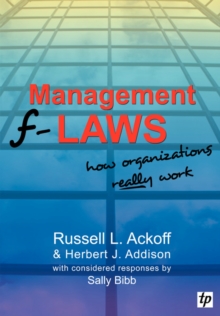 Management F-laws : How Organizations Really Work
Paperback
Description
Russell Ackoff is one of the world's top business brains.
Herbert Addison has worked for years in business book publishing.
Sally Bibb is a pioneer of organizational change. Who better to zero in on organizations, take them apart and then suggest ways of putting them back together - but better!
We have all heard of Sod's Law. Most of us know about Parkinson's Law. But what about "Management f-Laws"? "Management f-Laws: How Organizations Really Work" is a collection of subversive epigrams by Ackoff and his co-author Addison.
The f-Laws, an expression coined by Ackoff, expose the commonly established laws of management - the hierarchies and power struggles, the ineptitudes and time-wasting, the prejudices and careless thinking - as flaws of management, all of which hinder successful strategies of change.
With wit and wisdom, the authors set out the uncomforable truths about the way organizations really work to help sort out good management ways from bad, to get us thinking about how to change our own practices for the better. But can Ackoff and Addison, despite their life-long careers in Organizational Change and Systems Design really claim to speak for present-day management practice?
Sally Bibb has a fine reputation as a writer and journalist, is ebullient, witty and an enthusiastic pioneer of change.
To test them out, she picks up the gauntlet thrown down by Ackoff and Addison and rises to the challenge by giving some feisty responses to their ironic and provocative claims.
The conversation crosses cultural, status, gender and age divides and results in a book that will appeal to readers from the lowest to the highest ranks of the organizational hierarchy as well as to those who have resisted being part of it altogether.
Information
Format: Paperback
Pages: 180 pages, 12 black & white line drawings
Publisher: Triarchy Press
Publication Date: 24/01/2007
Category: Organizational theory & behaviour
ISBN: 9780955008122
Free Home Delivery
on all orders
Pick up orders
from local bookshops