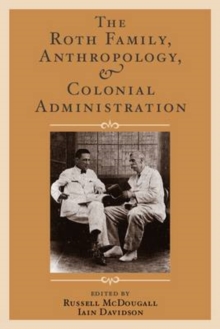 The Roth Family, Anthropology, and Colonial Administration
Hardback
Description
No family better represents the overlapping roles of administrator and scientist in the British empire than the Roths.
Descended from a Hungarian emigrant to Australia, two generations of Roths served the empire on four continents and, at the same time, produced ethnographic, archaeological, and linguistic studies that form the basis for much modern research.
This volume assesses the often-conflicting roles and contributions of the Roths as government servants and anthropologists.
Most of the volume deals with Walter E. Roth, who developed foundational studies of both the Australian Aborigines-considered to be among the first systematic ethnographies anywhere-and South American tribes while serving as Chief Protector of Aborigines in Queensland and later medical officer, magistrate, museum curator and indigenous relations officer in British Guyana.
Henry Ling Roth's contributions to the anthropology of Tasmania, Benin, Sarawak, and New Zealand are also enumerated, as are the publications and administrative activities of the succeeding generation of Roths.
This volume serves the reader as a family biography, a slice of the English colonial history, and an important introduction to the history of anthropology.
Information
Format: Hardback
Pages: 304 pages, 40 illus
Publisher: Left Coast Press Inc
Publication Date: 15/07/2008
ISBN: 9781598742282
Free Home Delivery
on all orders
Pick up orders
from local bookshops