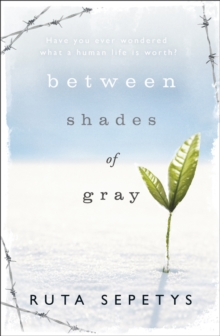 Between Shades of Gray
Paperback
Description
Between Shades of Gray is a haunting and powerful Second World War novel by Ruta SepetysThat morning, my brother's life was worth a pocket watch . . .One night fifteen-year-old Lina, her mother and young brother are hauled from their home by Soviet guards, thrown into cattle cars and sent away.
They are being deported to Siberia. An unimaginable and harrowing journey has begun. Lina doesn't know if she'll ever see her father or her friends again.
But she refuses to give up hope.Lina hopes for her family.For her country.For her future.For love - first love, with the boy she barely knows but knows she does not want to lose . . .Will hope keep Lina alive?Set in 1941, Between Shades of Gray is an extraordinary and haunting story based on first-hand family accounts and memories from survivors.Born and raised in Michigan, Ruta Sepetys is the daughter of a Lithuanian refugee.
Ruta lives with her family in Tennessee. Between Shades of Gray is her first novel and it was nominated for the prestigious Carnegie Medal.
Fans of The Book Thief, The Boy in the Striped Pyjamas and Codename Verity will fall in love with this book.
Information
Format: Paperback
Pages: 352 pages
Publisher: Penguin Books Ltd
Publication Date: 18/12/2010
Category: General
ISBN: 9780141335889
Other Formats
Paperback from £7.09
EPUB from £4.99
Free Home Delivery
on all orders
Pick up orders
from local bookshops
Reviews
Showing 1 - 3 of 3 reviews.
Review by Bellydancer
16/06/2015
Lina and her family are living a comfortable life in Lithuania in 1941. One evening while waiting for her father to arrive home they that hear a loud knock at the door; a knock that signals the end of life as Lina knows it. It is the Soviet guards and they take the family away, away never to return their home, away to a life of starvation, and death. But Lina fights to stay alive so she can get back to her home, her father and the boy she loves.A beautifully written and deeply disturbing story that needed to be told to the world. We all hear about the plight of the Jews throughout Europe during WW2 but not the people of Lithuania who were deported in their millions to Siberia, and lived in sub zero temperatures with nothing to live in but what the could find lying around the build some sort of shelter. A fabulously researched story, which will never leave you, one you will want to encourage others to read.
Review by theflutterbyroom
16/06/2015
Below the blurb in my edition of the book is the following section of text: Set in 1941, Between Shades of Gray is an extraordinary and haunting story based on first-hand family accounts and memories from survivors.This is not the first fictional war story I have read, nor is it the first one based on a "true" account – for my A-Level (or was it AS?) English Literature I was obliged to devour several books and poems about World War II – nor is it even the first YA book with this theme I have read. What is new for me is the subject matter. This book is about the travesties that Russia under Stalin's rule committed, particularly to the Baltic states – though the Lina and her family originate from Lithuania. It was an eye-opening read, as I honestly had no idea what happened in those states between 1941 and 1991 (it may have started earlier, I don't know).I went into this book half-knowing what to expect, and whilst the story was a gripping read I walked away from it disappointed. For me this novel lacked the emotions of other books in this genre – not once was I even close to tears because of the atrocities committed on the page. It was a good read though. From the first sentence I found myself compelled to read on. The protagonist, Lina, was an interesting mix of strength and vulnerability. I don't remember her once stop fighting, stop hoping, or stop living through all 338 pages of narrative. Yet there are moments where she acts out, like the any fifteen year old girl, and these moments can reveal horrific ordeals that leave her reeling.Sepetys's intertwines the past and the present in her narrative through a series of flash-backs, triggered by events Lina experiences. I'm not a big fan of first person narration in a story, but in this instance I think it works – telling the story from Lina's perspective gives means that Sepetys can tailor it for a YA audience. Yet I find there is something lacking from the narrative; a distance between the reader and the events being narrated. There is no real sense of urgency or horror evoked by the events Lina narrates, at least for me. As a reader I found this troubling, especially having been told that the story was based on real events.For me, what earned this book four stars was its ending. After the story that Lina narrates I found the ending particularly apt. Sepetys leaves the reader with a sense of hope, but fails to dot the i's and cross the t's. Potential readers may be interested to know that after the story Sepetys has written an authors note, and for those who want to explore the subject more she has listed the books which she used to write the novel. I think I may check this out in the future.If you're interested in learning more about the Second World War, and not just about the rise and fall of the Nazi party, then you should definitely give this book a go.
Review by Elysianfield
16/06/2015
4.5 stars<br/><br/>In 1941 the Soviets are gathering people they think as anti-Soviets, mainly from university, army, teachers. When NKVD comes knocking on their door, 15 year old Lina' life turns for the worse. She along with her mother and 11 year old brother gets deported from Lithuania to freezing Siberia with crowded train car that's labelled as thieves and prostitutes. As in worthless people.<br/><br/>This was such a great and emotional book. There isn't many books about Stalin's regime and even fewer about the Baltic countries and it was great reading about those for change.<br/><br/>They were given very little food and water which resulted in people dying of hunger and disease. Under those circumstances people react differently. Some fights back and won't give up, some are just desperate and some has given up. Lina's mother is good example of someone who has courage and stays strong through it all. Even with small rations of wood, she always has food to give to those who needs it. She's the one who keeps it all together.<br/><br/>The NKVD officers treated them worse than human beings. They were there to do their job and often saw it as a game. But it also made me thinking if there were some who had sympathies for the victims and who for their own good did nothing. I mean they would have gotten themselves killed otherwise most likely.<br/><br/>I would have liked to hear what happened to the other half after the camps were separated. And why they were separated in the first place. I also wondered what happened to that one guard and I found having more symphaty for him than I probably should have.<br/><br/>I'm not usually huge fan of historical YA but don't let it fool you. This was amazing book and I'm glad I read it!<br/><br/>And it always makes me excited when Finland is mentioned in a book lol :)