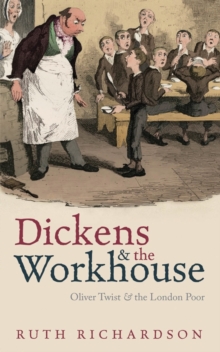 Dickens and the Workhouse : Oliver Twist and the London Poor
Hardback
Description
The recent discovery that as a young man Charles Dickens lived only a few doors from a major London workhouse made headlines worldwide, and the campaign to save the workhouse from demolition caught the public imagination.
Internationally, the media immediately grasped the idea that Oliver Twist's workhouse had been found, and made public the news that both the workhouse and Dickens's old home were still standing, near London's Telecom Tower.
This book, by the historian who did the sleuthing behind these exciting new findings, presents the story for the first time, and shows that the two periods Dickens lived in that part of London - before and after his father's imprisonment in a debtors' prison - were profoundly important to his subsequent writing career.
Information
Format: Hardback
Pages: 408 pages, 25 black and white halftones
Publisher: Oxford University Press
Publication Date: 02/02/2012
ISBN: 9780199645886
Free Home Delivery
on all orders
Pick up orders
from local bookshops
Reviews
Showing 1 - 2 of 2 reviews.
Review by john257hopper
16/06/2015
This is an absolutely splendid book examining the links between Dickens's works, especially Oliver Twist, and the operation of workhouses and the Poor Law regime in London, particularly the Cleveland Street workhouse which was a stone's throw from number 10 Norfolk Street where Dickens lived on two occasions with his family, as a very small boy and again in his late teens. The author shows how the proximity of the workhouse may have come to influence Dickens's early thinking and his reformist views, leading him to roundly condemn the operation of the New Poor Law in Oliver Twist. Through delving into architectural and commercial history, the author traces the history of No 10 Norfolk Street and the owners of the surrounding shops to trace possible influences on characters and their experiences in the novels. It's a fascinating slice of social and literary history, with some interesting photos and drawings. The Cleveland Street workhouse is still standing and was latterly a branch of the Middlesex Hospital which closed in 2006 and whose main building nearby has since been demolished. The author recounts many details of the horrible suffering that went on within the walls of this and other workhouses, especially after the Poor Law Reform of 1834, which made the regime much harsher and split up families, and also explores the link with the contemporary Anatomy Act, by which the corpses of those who died in workhouses were passed to medical schools for dissection, instead of a decent burial, a fate previously restricted only to the corpses of executed criminals. A powerful and fascinating read. 5/5
Review by wonderperson
16/06/2015
An jaw-dropping eye-opening of the life of Dickens as seen from the configuration of walkable streets that Dickens inhabited. An intimate sympathetic account that inspires you to investigate further the history and law of that time.