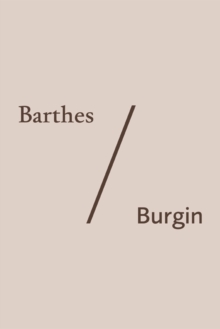 Barthes/Burgin
Paperback / softback
Description
The influence of Roland Barthes on Burgin's work is well documented.
Equally, Burgin's prominence as an artist and theorist concerned with text and image offers a productive dialogue with Barthes' work.
Victor Burgin has long been considered both theorist and practitioner, while Barthes is more known as a theorist and writer.
In bringing to the fore Barthes's practice of painting and drawing, Barthes/Burgin prompts a new critical consideration of Barthes/Burgin, theory/practice, writing/making and criticality/visuality.
Barthes/Burgin features two new interviews with Burgin, one concerned with his turn to new digital practices and the other a reflection on his reading of Roland Barthes.
Also included are images and texts from the artists and an essay critically examining Barthes' exercises in drawing and painting.
This book accompanied an exhibition at the John Hansard Gallery (February to April 2016), bringing together recent projection works by Victor Burgin and a selection of drawings by Roland Barthes rarely seen outside of France.
The exhibition played with Barthes' use of the slash as established in semiology (and notably used in the title of Barthes' key poststructuralist work S/Z).
Information
Format: Paperback / softback
Pages: 128 pages
Publisher: Edinburgh University Press
Publication Date: 31/08/2016
Category: Theory of art
ISBN: 9781474415538