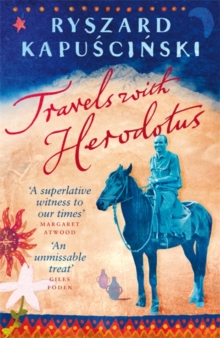 Travels with Herodotus
Paperback
Description
Travels with Herodotus records how Kapuscinski set out on his first forays - to India, China and Africa - with the great Greek historian constantly in his pocket.
He sees Louis Armstrong in Khartoum, visits Dar-es-Salaam, arrives in Algiers in time for a coup when nothing seems to happen (but he sees the Mediterranean for the first time).
At every encounter with a new culture, Kapuscinski plunges in, curious and observant, thirsting to understand its history, its thought, its people. And he reads Herodotus so much that he often feels he is embarking on two journeys - the first his assignment as a reporter, the second following Herodotus' expeditions.
Information
Format: Paperback
Pages: 288 pages
Publisher: Penguin Books Ltd
Publication Date: 01/05/2008
Category: Travel writing
ISBN: 9780141021140
Free Home Delivery
on all orders
Pick up orders
from local bookshops
Reviews
Showing 1 - 5 of 5 reviews.
Review by JanetinLondon
16/06/2015
A friend of mine recommended this book, and although Im not usually a big fan of travel books, I thought it would be rude not to read it, as she had loved it so much. Well, I'm certainly glad I did, because this book is terrific, and I'm glad I bought it rather than borrowed it, because I can see myself reading it again. Ryszard Kaupuscinski was a Polish journalist from the 1950's until his death in 2007, starting when Poland was firmly behind the Iron Curtain, with very restricted access to the world, and throughout the period of rapid change which Eastern Europe later experienced. His dream was to learn about the world, and his job as a foreign correspondent took him to many different places.In this book, he tells two parallel stories, one about some of the places he visited in his job - India, China, Egypt, Sudan, and the other about his readings from Herodotus, an ancient Greek historian whom Kapuscinski reads constantly when he is travelling. Herodotus was driven by a desire to understand the causes of conflict in his world - why did Greeks fight Persians, why did different tribes hate each other, who "started" it? To find out, he travelled extensively, asking people what they knew about their parts of the world. He was fascinated by the different traditions, customs, histories and ways of life of the people he met, describing them in great detail and with great respect. Kapuscinski quotes directly from Herodotus quite a lot, so we can see this for ourselves.Of course, Kapuscinski is also fascinated by all the people he himself meets, all so different from Poles, and he is just as respectful as Herodotus. He is also very open and honest, not only describing the people, places and events he is sent to record, but also recounting his own ignorance, for example, not knowing how to get places, falling into a trap and being robbed, completely failing to realize he is being systematically prevented from completing his assignment. He says right at the beginning of the book, in a short description of his education in war-torn, suspicious Poland, that people there were accustomed to scrutinizing everything they read to seek its hidden, political, meanings. Everything was a reference, an allegory. And so too, I think, is this book. By interleaving his stories and descriptions of the modern world with Herodotus' of the ancient one, he is showing us that the themes never change, and that the need to understand and respect all those people who are different from ourselves is still as essential as it was 2500 years ago. He also shows us that this can still be as satisfying, fascinating and pleasurable as it was then - his stories are just as thrilling, the people he meets just as interesting and individual, his sense of adventure just as strong, as it was for Herodotus.I really loved this book, and it made me want to read not only more books by Kapuscinski, but also Herodotus' History.
Review by janglen
16/06/2015
Ryszard Kapuscinski was a journalist and this book melds his own stories with reflections on, and quotes from, Herodotus's Histories. It is very well written and utterly fascinating even for one who has little interest in ancient history.
Review by Jannes
16/06/2015
This was my fist Kapuscinski, and I was not disappointed. The passages from Herodotus' <i>The histories</i> felt strange and random at first, as if I was reading two different books, but as the narrative progresses the parallels becomes clearer, and your in for one very compelling read.
Review by iftyzaidi
16/06/2015
Posthumously published memoirs by the renowned Polish journalist, I found I couldn't quiet warm up to this book. When the author is giving us biographical stories and details, its interesting, though there really isn't a whole lot of that here. Where he is essentially summarizing passages from Herodotus (which he does a lot of) it is again interesting but more than anything actually makes me want to pick up Herodotus! And then there is the mixed bag of ruminations and generalisations on life, the world and human nature which he derives from the passages in Herodotus which are occasionally intriguing, but more often, not. I much preferred [Shadow of the Sun] which I read last year.
Review by Poquette
27/08/2015
One of the magical things about reading is that it puts the reader directly in touch with the mind of the writer. Unfortunately, this is only a one-way street. But Ryszard Kapuscinski has seemingly performed the impossible: He somehow got Herodotus to answer questions about himself that he never directly addressed in his monumental <i>The Histories</i>. We know next to nothing of the facts of Herodotus' life: He came from Halicarnassus, an ancient seaport in western Asia Minor, now Bodrum, Turkey; he abided for a time in Athens where he was unable to obtain citizenship, so he eventually settled in an obscure Greek colony in the inner arch of the foot of Italy called Thurii.To American readers, at least, Ryszard Kapuscinski (1932-2007) isn't exactly a household name. But it turns out that he was one of the most respected international journalists around. In addition to <i>Travels with Herodotus</i>, he wrote books on some very interesting subjects including, for example, <i>The Emperor</i>, about the decline of Emperor Haile Selassie of Ethiopia; <i>Shah of Shahs</i>, about the last days of the Shah of Iran; and <i>Imperium</i>, about the fall of the Soviet Union.Kapuscinski first heard of Herodotus while attending university in 1951 Poland. This was a time when books were not readily available as they are now, and even something as seemingly innocuous as a Polish translation of Herodotus' <i>Histories</i> was locked away in a closet before it even got printed. As Kapuscinski wrote: <i>. . . all of our thinking, our looking and reading, was governed during those years by an obsession with allusion. Each word brought another one to mind; each had a double meaning, a false bottom, a hidden significance; each contained something secretly encoded, cunningly concealed. Nothing was ever plain, literal, unambiguous — from behind every gesture and word peered some referential sign, gazed a meaningfully winking eye. The man who wrote had difficulty communicating with the man who read, not only because the censor could confiscate the text en route, but also because when the text finally reached him, the latter read something utterly different from what was clearly written, constantly asking himself: What did this author really want to tell me?</i>Herodotus — the Polish version — was finally published in 1955 when a "thaw" was beginning to take place. Kapuscinski got a job with a newspaper and eventually was sent to India as a foreign correspondent. He was given "a present, for the road." It was a copy of Herodotus, <i>The Histories</i>.Kapuscinski not only carried the book with him, but he actually began to read it! And thus began a lifelong collaboration with the author of this ancient text. Judging from Kapuscinski's manner of storytelling, it would appear that his journalism mimics that of Herodotus in many subtle ways. Some critics who weren't all that enamored of his style of journalism probably didn't understand how it evolved from his study of Herodotus. One writer even dubbed his style "magic journalism," sort of a nonfiction variation on Gabriel Garcia Marquez's magic realism. This is amusing but it entirely misses the point. As Kapuscinski says: <i>"Herodotus's book arose from travel; it is world literature's first great work of reportage. Its author has reportorial instincts, a journalistic eye and ear."</i> Kapuscinski's career as a newspaper's foreign correspondent also arose from travel, and it probably didn't take him long to realize that in Herodotus he had serendipitously been handed access to the perfect prototype of his own budding craft. For him <i>The Histories</i> served as a reporter's handbook.He began to ask questions: How does Herodotus work? As a diplomat, a spy, a tourist, a wanderer? No. Herodotus was "a reporter, an anthropologist, an ethnographer, a historian." What is the goal of Herodotus' journeys? How does he travel? By analyzing the book from a writer's standpoint, he began to gain insights into his own writing. And here was the key:<i>One must read Herodotus's book — and every great book — repeatedly; with each reading it will reveal another layer, previously overlooked themes, images and meanings. For within every great book there are several others.</i>While Kapuscinski had been given the book as a traveling companion, he found eventually that he had been on two journeys — first, as a foreign correspondent; and second, as a traveler with Herodotus on his various journeys of inquiry. In a similar way, through <i>Travels with Herodotus</i>, we are getting to know two fascinating writers and their work. Kapuscinski presents the broad outlines of <i>The Histories</i> in the contexts of his various foreign assignments — among others, in India and China, Congo in the midst of civil war and Algiers in the aftermath of a coup. The circumstances in each locale inform Kapuscinski's reading of Herodotus and conversely, Herodotus' enquiries inform Kapuscinski's reporting of unfolding events. Through his travels — mostly in the third world — Kapuscinski often found himself in situations that were as primitive as those Herodotus encountered, and this is probably one reason why <i>The Histories</i> resonated for him. But traveling, whether as a reporter or as a mere tourist, has much in common with reading great literature and has profound effects: <i>A journey, after all, neither begins in the instant we set out, nor ends when we have reached our doorstep once again. It starts much earlier and is never really over, because the film of memory continues running on inside us long after we have come to a physical standstill. Indeed, there exists something like a contagion of travel, and the disease is essentially incurable.</i>If one finds the prospect of reading <i>The Histories</i> too daunting, one cannot go wrong by dipping a toe into the waters through <i>Travels with Herodotus</i>. This is one of those books . . .