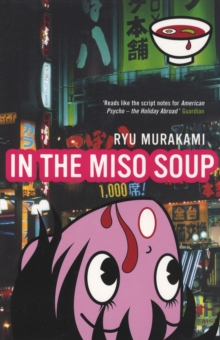 In The Miso Soup
Paperback
Description
It's just before New Year, and Frank, an overweight American tourist, has hired Kenji to take him on a guided tour of Tokyo's nightlife.
But, Frank's behaviour is so odd that Kenji begins to entertain a horrible suspicion: his client may in fact have murderous desires.
Although Kenji is far from innocent himself, he unwillingly descends with Frank into an inferno of evil, from which only his sixteen-year-old girlfriend, Jun, can possibly save him.
Information
Format: Paperback
Pages: 192 pages
Publisher: Bloomsbury Publishing PLC
Publication Date: 23/07/2005
ISBN: 9780747578888
Free Home Delivery
on all orders
Pick up orders
from local bookshops
Reviews
Showing 1 - 5 of 5 reviews.
Review by ablueidol
16/06/2015
In the Miso Soup by Ryu Murakami is on the surface a gritty hard boiled thriller set in the Kabuki-cho red-light district of Tokyo as the approaching New Year leaves near empty except for the human wreckage of the city. Jimji a young illegal sex tourist guide makes a good but shady living from taking westerners around the girlie bars, peep shows, hookers that allow foreigners.He meets up with Frank who hires him for three days but from the start Jimji feels something is wrong and he starts to be sucked into an ever deepening nightmare that threatens his and his girl friend existence.The story is told in the 1st person from Jimji perspective and is based on clear fluid writing equal if not better then Haruki Murakami, which evokes the place and time so that you have a movie in your head. Not necessarily a good thing given some of things that happen. Beneath the surface is a very different story which leads to conclusions and beginnings that can be misunderstood if psycho thriller is the readers' sole expectation. We are instead being lead into mediation through the events affecting two desperate characters on what the Western and Japanese experience of loneliness is. The key passage for me is this one.I remember the American making this particular confession, and the way his voice caught when he said "accept it". Americans don't talk about just grinning and bearing it, which is the Japanese approach to so many things. After listening to a lot of these stories, I began to think that American loneliness is a completely different creature from anything we experience in this country, and it made me glad I was born Japanese. The type of loneliness where you need to keep struggling to accept a situation is fundamentally different from the sort you know you will get through if you just hang in there. I don't think I could stand the sort of loneliness Americans feel.Reflect on what is being said here and you will enjoy a taut psychological thriller whose outcome makes perfect sense. Highly recommended
Review by SmithSJ01
16/06/2015
This was a FANTASTIC book. The beginning is a little slow but once Kenji's suspicions are raised about Frank the plot thickens. It is gruesome and gory from the half-way point. Easy reading with convincing, believable characters. This book will now have me hunting out others by the same/similar author(s). A plot with heaps of cultural corruption looking at how lonliness descends upon us, this is within my top ten so far this year within this genre.
Review by laphroaig
16/06/2015
Set in a strange, inaccessible quarter of Tokyo populated by prostitutes, strippers and low-lifes, Ryu Murakami presents an alien picture of the metropolis that becomes distinctly unsettling. Kenji, the book's main character must charter these waters for his customer, Frank - an odd and increasingly unnerving tourist whose constantly shifting lies cloud what may be murderous truths.In the Miso Soup is both worthwhile and unsettling - threading through the story are concepts of detachment, alienation, cultural differences and the emptiness of the modern life. At times the novel feels like an odd form of display art, striking chords when it least tries. Frank becomes more and more unsettling throughout the novel, and although it is one gruesome and extremely violent section that will capture the attention, it is his bizarre, unpredictable and uninterpretable mood that makes him truly sinister and oddly hypnotic.However, the author tries too hard. Frank becomes least interesting when he is supposed to be most dangerous (black eyes and blank looks are two over-used clichés). The main character, Kenji, and his girlfriend, Jun, are so average that their exchanges begin to feel like over-heard mobile phone conversations: realistic, but hardly interesting. Kenji himself is, in the main, bland and uninteresting and although the book is rich in vivid scenes, they can be matched by some forced, stilted paragraphs - how much of this is due to translation is one question, as there occasional phrases which manage to get the wrong end of the stick, e.g. "the popularity of foreigners ... has completely bottomed-out", but "bottomed-out" implies an upturn, so "hit rock bottom" may be more appropriate.Ultimately "In the Miso Soup" may be an acquired taste: it is unusual, sometimes imperfect, often bursting with surprising flavours ... but it is definitely worth a try.
Review by kyuuketsukirui
16/06/2015
Twenty-year-old Kenji lives alone in Tokyo. His mom thinks he's enrolled in a cram school and trying to get into college, but he actually works as an unlicensed guide, showing foreigners around the Tokyo sex clubs. But Frank is like no customer Kenji's ever had before, and soon he's more worried about getting out of this three-day job alive than getting paid.This is the first Ryu Murakami book I've ever read, though I've seen his stuff around a lot. After reading this I'm <i>very</i> interested in reading more. This book was fantastic. I managed to put it down fairly easily after the first part (it's divided into three parts), though I really enjoyed it, but I read parts two and three straight through, unable to put it down. It's a short book, but I don't have that long an attention span, so reading something in one or two sittings is pretty rare for me.The translation was really good, too. I haven't read the Japanese to compare the content, of course, but it read really naturally in English. I wouldn't have thought it was a translation.
Review by malcrf
27/08/2015
I generally like Japanese books, but this is a bit of a disappointment. Surreal, challenging and reflective of a very different culture, but if this book has something important to say, then it's too subtle for me. If it's merely an entertaining ride (and why not) then it lacks a certain energy or verve.