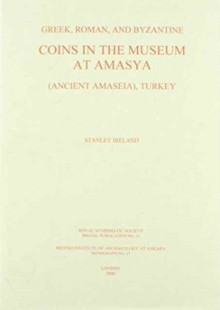 Greek, Roman and Byzantine Coins in the Museum at Amasya (Ancient Amaseia), Turkey
Hardback
Description
The rich numismatic collections of Turkish provincial museums are still relatively unknown and this volume presents for the first time the coinage in the museum of Amasya, which, under its ancient name of Amaseia, was one of the major centres of north-east Anatolia.
In the Hellenistic period it was capital of the powerful kingdom of Pontus, while under the Roman empire it boasted the title of `Metropolis and First City' of its province. Over 4,500 coins held in the museum are catalogued, ranging in date from the 5th century BC until the 11th century AD.
Most are finds from the surrounding region, so that there are rich holdings from the mints of Amaseia, Amisus, Sinope and Cappadcian Caesarea; but over 50 other mints in Asia Minor are represented and some coins come from as far afield as Alexandria in Egypt and Arles in Gaul.
Information
Format: Hardback
Pages: 132 pages, map, 61 b/w pls
Publisher: British Institute of Archaeology at Ankara
Publication Date: 01/12/2000
Category: Archaeology
ISBN: 9780901405531
Also by S. Ireland