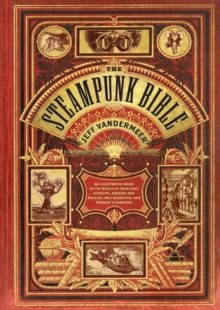 The Steampunk Bible : An Illustrated Guide to the World of Imaginary Airships, Corsets and Goggles, Mad Scientists, and Strange Literature
Hardback
Description
Over the past fifteen years, Steampunk - a mash-up of Victorian and sci-fi aesthetics with a splash of punk rock attitude - has gone from being a literary movement to a part of pop culture and a way of life.
This subculture celebrates the inventor as an artist and hero, re-envisioning and crafting retro technologies including antiquated airships and steam-powered robots.
The Steampunk aesthetic now permeates movies, comics, fashion, art and more, and has given a distinct flavor to iconic events such as Maker Faire and the Burning Man festival.
The Steampunk Bible is the first book of its kind, a fully illustrated compendium tracing the roots and history of this subculture, from the work of its godfathers Jules Verne and H.G.
Wells, to the key figures who coined the word that would spawn a literary genre, to the vast community of craftsmen and artists who translated that spark into a lifestyle with clothing and accessories such as goggles, corsets, pocket watches, and with an attitude to match. This ultimate resource, filled with scores of illustrations and photographs, will appeal to aficionados and novices alike as author Jeff VanderMeer takes the reader on a wild ride through the clockwork corridors of Steampunk past, present and future.
Information
Format: Hardback
Pages: 224 pages, 150 colour illustrations
Publisher: Abrams
Publication Date: 01/05/2011
Category: Literary studies: general
ISBN: 9780810989580
Free Home Delivery
on all orders
Pick up orders
from local bookshops
Reviews
Showing 1 - 5 of 6 reviews.
Previous | Next
Review by alsatia
16/06/2015
An amazing, beautiful, thought-provoking book, The Steampunk Bible catalogs the history and state of the steampunk subculture. Separate sections cover literature, art, making, and the fashions of the movement. The editors suggest that the growing interest in sustainability and the increasing rejection of mass market consumption fuel the steampunk movement. Steampunk is fun and serious without being stuffy. This is a great intro text for the movement.
Review by isabelx
16/06/2015
STEAMPUNK = Mad Scientist Inventor [invention (steam x airship or metal man / baroque stylings) x (pseudo) Victorian setting] + progressive or reactionary politics x adventure plot I put this book on my Christmas list after seeing it at the local bookshop and flicking through the pictures, and my brother bought it for me. Before reading it I was only really aware of Steampunk literature and the dressing up aspect of Steampunk fandom, and the book does start by tracing the roots of Steampunk back to Jules Verne and H.G. Wells, through Moorcock's Warlord of the Air trilogy to the first real Steampunk novels which came out of the friendship of three American authors in the mid-1980s Jules Verne also seems to have had an indirect influence on Steampunk, as several of the people interviewed for this book cited the 1954 Disney version of "20,000 Leagues Under the Sea" as having sparked their interest At first glance Steampunk may seems like a good excuse for dressing up in Victorian costumes accessorised with goggles , but the authors stress that the 'punk' part of the word is just as important as the 'steam'. Steampunk is not about a shallow glamorised version of an alternate Victorian era with emphasis on steam power, clockwork and helium-powered airships that aren't prone to exploding into flame; it also addresses the human and environmental cost of the industrial revolution, and issues such as colonialism and war. Steampunk emphasises individuality and craftsmanship versus bland mass-produced objects, and many artists and makers have found inspiration there, from jewellery and clothing designers to designers of retro-futuristic ray-guns, and works on a colossal scale such as the colossal mechanical animals of the Jules Verne-inspired machines de l'Ile de Nantes and the art installation at Forevertron Park in Wisconsin.The book's conclusion is that Steampunk is a vibrant sub-culture that can be approached from many different angles, and that it should be able to avoid stagnation by taking inspiration from other 19th century cultures apart from Victorian Britain and the American West. So although "The Steampunk Bible" went on my wish list because of the pictures, the text turned out to be just as interesting.
Review by richardderus
16/06/2015
The Book Report: The book description says: Steampunk—a grafting of Victorian aesthetic and punk rock attitude onto various forms of science-fiction culture—is a phenomenon that has come to influence film, literature, art, music, fashion, and more. The Steampunk Bible is the first compendium about the movement, tracing its roots in the works of Jules Verne and H. G. Wells through its most recent expression in movies such as Sherlock Holmes. Its adherents celebrate the inventor as an artist and hero, re-envisioning and crafting retro technologies including antiquated airships and robots. A burgeoning DIY community has brought a distinctive Victorian-fantasy style to their crafts and art. Steampunk evokes a sense of adventure and discovery, and embraces extinct technologies as a way of talking about the future. This ultimate manual will appeal to aficionados and novices alike as author Jeff VanderMeer takes the reader on a wild ride through the clockwork corridors of Steampunk history. My Review: A movement that, at its oldest, is 25 years old, doesn't need a bible. But in my opinion, THE bible is unnecessary as well, so no one's listening to me, are they?It turns out, in this case at least, that this is a good thing. What a lovely book! How wonderful and imaginative the items in it are. I love the DIY side of Steampunk, and would love to win Powerball (like that one person in Michigan...one person!...who won the $337 million this week, wonder if he/she's married...) because I'd have the whole place crammed with the bizarre and beautiful artifacts the Steampunkers produce. I already have a Walt Whitmanesque beard...now all I need is the gear....Anyone who is on Facebook should look at a page called, with admirable restraint and clarity, "Steampunk" to get a sense of how very widespread the appeal of the aesthetic is. And to see some astoundingly cool stuff. There are Steampunk expos. The Burning Man festival is a steampunk-heavy event now, when it used to be a way trippy new-age-meets-orgy kinda deal. If this neo-Victorian aesthetic would just hurry up and supplant the noisy, ugly, annoying rap/hip-hop/"urban" horripilation I've snorted at and winced through for the past 20 years, I will be the happiest old man who ever pinched a monocled twentysomething boy's ass. (His monocle fell out. I think I gave myself a rupture laughing.)So three and a half stars? Mingy much? Well. Um. Not really. VanderMeer does what he usually ends up doing in his anthologies. He puffs his friends and tells us what to think about the subject under discussion. I don't really like that a lot.And, as I mentioned, the movement's pretty new. The available material isn't up to much in survey terms, and this book isn't at all comprehensive. Had it been, I would have been a lot more lenient. On the whole, I'd say it's a pretty ornament to the coffee table and let you take it from there.
Review by BrookeAshley
16/06/2015
This was a nicely illustrated and well written (it IS Jeff VanderMeer, after all) exploration of the evolution of Steampunk. It covered all the facets of the movement: literature, fashion, art, movies. It further cemented my belief that anyone who thinks that Steampunk is merely an aesthetic is completely missing the point - Steampunk is a response to romanticization of the imperialism and class issues of the Victorian era. One thing I hadn't known before was that the artsy side is a rejection of current mass market consumerism, which does seem like an appropriate parallel.
Review by aoibhealfae
16/06/2015
The Steampunk Bible is a small book but ambitious and packed with information which truly fit its name. I think I became more than a newbie reading this. <br/><br/>Densely illustrated with a lot of side notes and more side references to pique you along but sometimes the content wash off me. There was a prevalence Jules Verne fandoming somewhere in between but the most content out of this book has got to be the book references.<br/><br/>I was more familiar with Japanese steampunk so I was quite disappointed how small section dedicated for that in this book. There was countless of games (Final Fantasy series), anime (Full Metal Alchemist), tokusatsu (Kamen Rider), tv series (Garo) and films (Escaflowne)in Japan that was steeped in steampunk than just Steamboy and Hayao Miyazaki. No, I refuse to let Jay Kristoff's abomination on Japanese culture to ever fit in the genre. <br/><br/>At times, I was completely unfamiliar with the references provided in the book (and there was tonnes of it) but the illustrations helps. But some of the content was a bit repetitive. There's some section dedicated for US-based Steampunk movement which is a bit nice but done nothing for the international folks really. <br/><br/>Basically its 101 Steampunk, long paragraphs with book and movie recommendations, some fashion and DYI art and some steampunk sculptures. There's some philosophy in between but the repetitive nature of it made some part of the book redundant. But is it just me, or the book made Steampunk look like unapproachable in term of class aka snobbish? Because it does read like that.<br/>