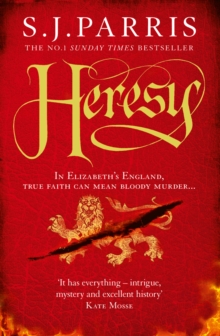 Description
A vivid and gripping historical thriller set in Elizabethan England introducing Giordano Bruno, philosopher, scientist and spy for all fans of C.J.Sansom and The Name of the Rose.In Elizabeth's England, true faith can mean bloody murder...Oxford, 1583.
A place of learning. And murderous schemes.The country is rife with plots to assassinate Queen Elizabeth and return the realm to the Catholic faith.
Giordano Bruno is recruited by the queen's spymaster and sent undercover to expose a treacherous conspiracy in Oxford - but his own secret mission must remain hidden at all costs.A spy under orders.
A coveted throne under threat.When a series of hideous murders ruptures close-knit college life, Bruno is compelled to investigate. And what he finds makes it brutally clear that the Tudor throne itself is at stake...Heretic, maverick, charmer: Giordano Bruno is always on his guard.
Never more so than when working for Queen Elizabeth and her spymaster - for this man of letters is now an agent of intrigue and danger.
Information
Format: Paperback
Pages: 512 pages
Publisher: HarperCollins Publishers
Publication Date: 01/03/2011
Category: Historical fiction
ISBN: 9780007317707
Free Home Delivery
on all orders
Pick up orders
from local bookshops
Reviews
Showing 1 - 5 of 5 reviews.
Review by everfresh1
16/06/2015
It started slow, very slow, and I was already thinking about putting this book aside but the second half was much better. Not much of 'historical' theme here - it just provides a flavour for a good mystery.
Review by BrianHostad
16/06/2015
Readable book, but with a slow start and overlong end. Unfortunately it does not match up well with the Shardlake books by C.J Sansom. The reason for me being the historical detail is not well written or feels as deeply researched, and the character of Bruno does not feel that believable or even sympathetic, despite being based on a real person.Hopefully, this is just the author finding her feet with the character and the later books are better.
Review by Carpe_Librum
16/06/2015
We first meet our protagonist Giordano Bruno on the privy, reading a forbidden text in a monastery in Naples in the 1500s.Unfortunately he is discovered, and Bruno's unabated desire for forbidden knowledge and the alleged sin of pride makes him a target for the Inquisition and he is forced to flee Naples. On the run for years, he agrees to go to Oxford in 1583 to work as a spy for Sir Francis Walsingham to root out traitors to Queen Elizabeth I. Those practising Catholicism must do so in secret, and it is feared that there are plots to assassinate the Queen in order to return England to the Catholic faith.However there is soon a bloody murder in Oxford and others tragically follow. Bruno begins to investigate, not knowing whether the murders are related to a treasonous plot or the work of a bloodthirsty member of the University.Not trusted due to his status as an outsider, Bruno runs into his fair share of difficulties and this is further complicated by his own private and secret mission to use the opportunity in Oxford to track down an extremely rare manuscript.Heresy is an excellent historical fiction novel, and the reader is able to gain a wonderful sense of being in 1500s Oxford. In fact, I was in London at the time of reading the novel, and twice visited Oxford while reading this book. I can't tell you how much I enjoyed reading these pages, having just visited these locations and being able to picture the places and scenes precisely as they were described. It really added to my reading pleasure.Heresy is the first in the Giordano Bruno series of books by S.J. Parris, of which - at the time of this review - there are three:1.Heresy by S.J. Parris2.Prophecy by S.J. Parris3.Sacrilege by S.J. ParrisI have the next book in the series on my shelf already, Prophecy, and I'm looking forward to seeing what happens next.
Review by Ant.Harrison
16/06/2015
"Heresy" is yet another take on the current obsession with the Tudor period by publishers of popular fiction. S.J. Parris introduces us to Giordano Bruno, former catholic monk and now an itinerant academic who wanders across the universities and courts of Europe. Due to his connections with a member of the English aristocracy he is introduced to Walsingham (Elizabeth's secretary and spy master). For some reason Walsingham takes a shine to Bruno, and it's while visiting Oxford University for apparently academic purposes that he becomes embroiled in a strange case of murder. <br/><br/>Parris is a good stylist and writes dense, detailed text, having clearly given lots of thought to her craft; fine as long as you don't forget that the other element required is 'plot'...well for me it is. Parris seems to forget this, as she relishes the dense and descriptive detail of the various theories regarding Catholicism and Protestantism, with large doses of philosophy and monastic history thrown in for good measure. There were times when I felt as though I'd been severely beaten over the head with all her detailed background knowledge. To me, this simply slowed the story down and was a turn-off. The actual mystery takes second stage to all the descriptive babble, and isn't helped by the sub-plot of Bruno's search for some long-lost manuscript or other; after a while I couldn't bring myself to care. <br/><br/>I finished this book only because I was away on holiday at the time and didn't have easy access to anything else to read. I can't recommend it to others, and suggest that if it's Tudor historical fiction that you're after, stick with C.J. Sansom and Rory Clements. <br/><br/>© Koplowitz 2012 <br/> <br/>
Review by Eyejaybee
16/06/2015
I found this book very disappointing. It could have been so good!The basic premise is certainly enticing. Giordano Bruno is a prime example of the Renaissance Man - scientist, literary lion and a dab hand with a dagger should the need arise, he is also a former, or more accurately, a disgraced and unfrocked monk ho has pulled off the startling feat of being excommunicated by the Catholic church and deemed a heretic by the Calvinists. Having fled from his monastery to escape the Inquisition he wends his worried way through Europe, ending up in England. There he is recruited by Queen Elizabeth's feted spymaster Lord Walsingham.All this sets a scene crying out for a rattling good story, and that is where Parris lets us down. The novel is far too long and moves with geological slowness - I have seen more action from the concrete cows that abound around Milton Keynes. When we first meet Bruno he is hiding in a monastic privy into which he throws the proscribed tome that he was reading. If I had had access to a suitably accommodating cludgie beyond risk of blockage I would have followed his example with this one!