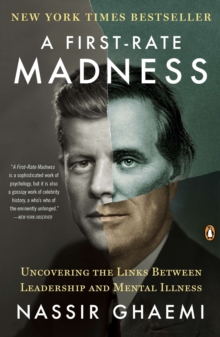 A First-Rate Madness : Uncovering the Links Between Leadership and Mental Illness
Paperback
Description
This New York Times bestseller is a myth-shattering exploration of the powerful connections between mental illness and leadership.Historians have long puzzled over the apparent mental instability of great and terrible leaders alike: Napoleon, Lincoln, Churchill, Hitler, and others.
In A First-Rate Madness, Nassir Ghaemi, director of the Mood Disorders Programme at Tufts Medical Center, offers and sets forth a controversial, compelling thesis: the very qualities that mark those with mood disorders also make for the best leaders in times of crisis.
From the importance of Lincoln's "depressive realism" to the lacklustre leadership of exceedingly sane men as Neville Chamberlain, A First-Rate Madness overturns many of our most cherished perceptions about greatness and the mind.
Information
Format: Paperback
Pages: 352 pages
Publisher: Penguin Books Ltd
Publication Date: 26/06/2012
Category: Abnormal psychology
ISBN: 9780143121336
Free Home Delivery
on all orders
Pick up orders
from local bookshops
Reviews
Showing 1 - 5 of 5 reviews.
Review by GlennBell
16/06/2015
Nassir does a nice job at examining the historical information on the medical history a group of famous famous leaders (largely military leaders and statesmen). He claims that he can diagnose these figures based on the information obtained. While it is true that several of the leaders had evidence of psychological disturbances or negative behaviors, it seems difficult to make definitive diagnoses. Nassir claims that those with psychological problems perform better in times of crises than those which he claims are normal. I suspect that this is not the case in general. He has hand picked his examples and has chosen evidence to support his theory while ignoring evidence that contradicts his theory. In my estimate, he has not proven mental disorder as the causal agent for better performance of leaders during crisis. It is an interesting theory but probably not correct. The book has merit for the research conducted but lacks concrete evidence.
Review by kishields
16/06/2015
Interesting, but a bit too skimpy to be entirely convincing. I enjoyed the anecdotes and excerpts from subjects' letters and friends' comments.
Review by phlll
16/06/2015
Disclaimer: I won this book. I'm reviewing it, even though I didn't pay for it. Beyond the nice people at Penguin Publishing mailing the book to my house in a white, padded envelope (sadly *not* reusable) there was nothing else implied by me or the publisher in my reading it. No promise of any more white envelopes stuffed with more books, no promise of more white envelopes stuffed with $100 bills (which would have been nice, actually). It is what it is.<br/><br/>*********<br/><br/>Did some of our best leaders in times of trouble suffer from mental illness?<br/><br/>That's the premise of "A First-Rate Madness", which looks at historical accounts of past world leaders and contrasts the ones that were more successful with people who are more footnotes in history. <br/><br/>In addition to the Kennedys and Lincolns, the book also delves into Hitler (to which the author makes no defense of Hitler's actions, only if he was actually "mentally ill" or simply in a drug-induced psychosis), Ghandi, MLK, and for reasons that I'm still not 100% clear on, Ted Turner (also the only living person he examines for illness.)<br/><br/>The book compares the war struggles of the past, and compares some with the current actions in Iraq and Afghanistan. Spoiler arert: Bush is *not* crazy, and actually quite normal (if there is such a thing) compared to the population at large.<br/><br/>It's all a very interesting view, and the book really only was a little slow in the first couple sections between looking at historical people (Sherman and Lincoln) as the thesis was starting to be laid out. Four stars, because parts of it read more like a textbook than something you would willingly read, although the book as a whole was quite good.<br/><br/>
Review by jspringbrinkley
16/06/2015
A whole different perspective, avoids demonizing or putting the subject on a pedestal. I think as a whole people think of mental abnormalities as something detrimental or 'bad', and being mentally 'normal' (a 'homoclite' as it is put) is viewed as being completely positive or 'good'. This book points out that mentally abnormal or ill people can do extraordinary things, and completely normal and sane people can perform some of the worst atrocities the world has seen. This is supported by the Milgram experiment, summed up in the article titled "The Perils of Obedience". A very good read, I enjoyed the book. Only 4 stars because I found the book to be a bit scattered at times and I would have liked more solid parallels with which to compare the behaviors, but overall a good read.
Review by AuntieClio
27/08/2015
While Dr. Ghaemi may have a point about leaders diagnosed with mental illness being great leaders, I tend to think his hypothesis is a pattern looking for an answer, rather than proving the answer. His sample is too small, and cherry-picked. Comparing JFK to Hitler is like comparing filet mignon to maggot infested offal. And claiming Nixon wasn't mentally ill until he took office? That just doesn't fly.The crux of the discussion should be, just what is the definition of mental health or illness? Followed by how does that definition apply to a large sample of leaders (e. g. all American presidents, all world leaders during WWII, etc.)There are some valid points to be made; such as those who have survived traumatic childhoods may be better tempered to be better leaders in times of crisis. But many of us know people who were traumatized during childhood who are extremely fragile and vulnerable, and in no condition to lead a parade, much less a business or country.This is not to say that Ghaemi's work is completely without value, I learned more about those he studied than I knew before. It was worth reading for the history parts. But I probably could have read any number of biographies and come away with the same information.