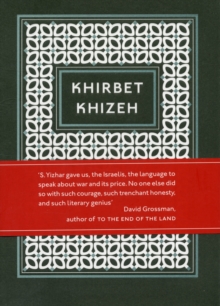 Description
This 1949 novella about the violent expulsion of Palestinian villagers by the Israeli army has long been considered a modern Hebrew masterpiece, and it has also given rise to fierce controversy over the years.
Published just months after the end of the 1948 war, Khirbet Khizeh (the khA" pronounced like the chA" in BachA") was an immediate sensation when it first appeared.
Thousands of Israeli Jews rushed to read it, the critics began to argue about it, and a Palestinian journalist in Nablus described it as a sign that the Israeli army had a conscience and that peace was possible.Since then, the book has continued to challenge and disturb.
The various debates it has prompted would themselves make Khirbet Khizeh worth reading, but the novella is much more than a vital historical document: it is also a great work of art.
Yizhar's haunting, lyrical style and charged registration of the landscape are in many ways as startling as his wrenchingly honest view of one of Israel's defining moments.
Despite its international reputation, the book has never before been translated into English.
Information
Format: Paperback
Pages: 128 pages
Publisher: Granta Books
Publication Date: 01/02/2011
ISBN: 9781847083944
Free Home Delivery
on all orders
Pick up orders
from local bookshops
Reviews
Showing 1 - 1 of 1 reviews.
Review by starbox
16/06/2015
"Jews being killed. Europe. We were the masters now", 15 February 2015This review is from: Khirbet Khizeh: A Novel (Paperback)I didn't think I was going to get into this work, with its sometimes meandering sentences, but made a determined effort and read it in one sitting (120 p) and it's absolutely brilliant.First published in 1949, it's narrated by a young Israeli soldier out with his platoon, carrying out orders to clear out the eponymous Arab village, remove the occupants and blow up the houses. Yizhar brings the whole situation to life, with vivid descriptions of the Palestinian landscape and of the soldiers' demeanour:'there was to be no battle for us today...today we were going on an outing.'But as the remaining Arabs are heartlessly 'cleared' onto 'transports', the reader sees uncomfortable similarities with the awful situation of the Jews themselves in Europe just a few years previously. As the narrator, himself opposed to the situation, observes:'the Diaspora...Our nation's protest to the world: exile! It had entered me, apparently, with my mother's milk. what, in fact, had we perpetrated here today?'Very powerful read, and for readers like myself who weren't around in the 40s, very informative. This edition is enhanced by an afterword by David Shulman which explains some of the Biblical references in 'Yizhar's dense web of allusion', and discusses the situation today between settlers and their Palestinian neighbours.