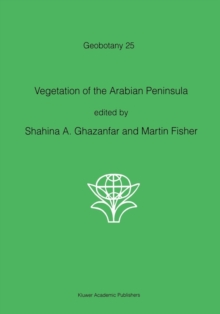 Vegetation of the Arabian Peninsula
Hardback
Part of the Geobotany series
Description
The inspiration for this book came from our ten years of journeys and wanderings through the varied landscapes of Arabia, and in particular through those of its hospitable southeastern corner, Oman.
We owe a particular debt to Sultan Qaboos University, which during this time has provided us with both a stimulating working environment and a home.
Transliteration of Arabic place and other names into English script is a task fraught with difficulties.
We have followed 'accepted' spellings wherever these were not contrary to our common sense, and in other cases we have rendered names into Roman English script using phonetic spellings.
Our main task in this respect was to ensure conformity between the fIfteen contributing authors.
Diacritical signs have mostly been avoided, since their use is neither widely followed nor readily understood.
Arabic words which have been commonly taken into the English language, such as 'sabkha' for a salt flat and 'wadi' for a valley with a seasonal watercourse, are not italicised in usage.
However, other Arabic terms which are occasionally used in English but not as widely known, such as harrah for a basaltic lava fIeld and hima for a traditional grazing reserve, are italicised throughout the text.
Information
Format:Hardback
Pages:363 pages, X, 363 p.
Publisher:Springer
Publication Date:01/08/1998
Category:
ISBN:9780792350156