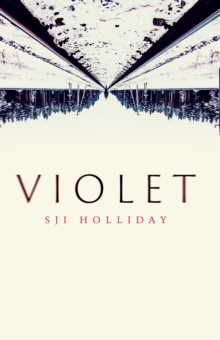 Violet
Paperback / softback
Description
When two strangers end up sharing a cabin on the Trans-Siberian Express, an intense friendship develops, one that can only have one ending ... a nerve-shattering psychological thriller from bestselling author SJI Holliday 'Such a brilliantly dark compelling story set against such a fantastically exotic backdrop.
I don't think I read the book as much as inhaled it.
Compelling, gripping and horrifically entertaining, fasten your seatbelts, this is going to be a bumpy read!
I loved it' Liz Nugent 'Twisted, gripping and totally addictive' Paddy Magrane 'Echoes of a Killing Eve vibe.
Fabulously awful women you will love' Sarah Pinborough Carrie's best friend has an accident and can no longer make the round-the-world trip they'd planned together, so Carrie decides to go it alone. Violet is also travelling alone, after splitting up with her boyfriend in Thailand.
She is also desperate for a ticket on the Trans-Siberian Express, but there is nothing available. When the two women meet in a Beijing Hotel, Carrie makes the impulsive decision to invite Violet to take her best friend's place. Thrown together in a strange country, and the cramped cabin of the train, the women soon form a bond.
But as the journey continues, through Mongolia and into Russia, things start to unravel - because one of these women is not who she claims to be... A tense and twisted psychological thriller about obsession, manipulation and toxic friendships, Violet also reminds us that there's a reason why mother told us not to talk to strangers... 'A sumptuously dark psychological thriller with echoes of Patricia Highsmith at her finest, and for fans of Killing Eve'Michael Wood 'Violet is bristling with clever twists - nobody writes scary people quite as brilliantly as Holliday' Elizabeth Haynes 'I couldn't stop thinking about Violet after I finished it.
Brilliantly atmospheric and exquisitely paced' Cass Green 'Easily SJI Holliday's best yet.
A fast-paced, darkly thrilling noir that reads like a modern take on Patricia Highsmith' Mason Cross 'LOVED it.
Sick and twisted, it took me straight back to my backpacking days and the wild and crazy folk I encountered. 'Tour de force' is an overused phrase but it works on so many levels with this book' Syd Moore 'A splendid, hilarious, sardonic Highsmithian romp' Alex Marwood 'A fast-paced thriller with an ambitious yet perfectly executed backdrop, Violet is deliciously Ripleyesque and an absolute pleasure to read' Jenny Blackhurst 'Deliciously decadently dark - The Beach meets Single White Female' Derek Farrell 'A chillingly twisty, psychological thriller from its unsettling opening to it's shocking ending, it keeps you right on the edge of your seat' Russel McLean 'Thrilling, shocking, darkly humorous, with richly described settings, Violet is everything you'd want in a psychological thriller' Lisa Gray 'Smart, slick, original, darkly funny, and hugely entertaining.
This is one to seek out. LOVED it. Brava!' Amanda Jennings 'Like a cross between The Talented Mr Ripley and Single White Female ... on a train! Whip-smart writing, devilishly suspenseful and packed with twists, this nail-biting psych thriller is without doubt one of my top reads of 2019' Steph Broadribb
Information
Format: Paperback / softback
Pages: 276 pages
Publisher: Orenda Books
Publication Date: 14/11/2019
ISBN: 9781912374854
Save 26%
Free Home Delivery
on all orders
Pick up orders
from local bookshops
Also by SJI Holliday