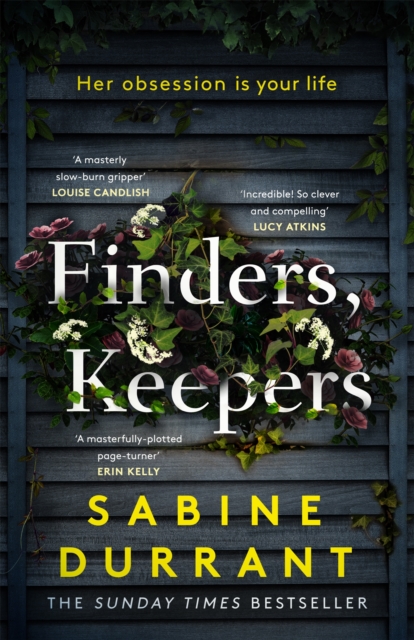 Finders, Keepers : A dark and twisty novel of scheming neighbours, from the author of Lie With Me
Hardback
Description
One woman's secret is her neighbour's opportunity. 'Masterly' Louise Candlish'Incredible!' Lucy Atkins'Riveting' Clare Mackintosh'Extraordinary' Mark Edwards'Intelligent, twisty' OBSERVER'Accomplished and addictive' SUNDAY TIMES Verity Baxter has lived - quietly, carefully - in Trinity Fields all her life.
Then Ailsa and Tom Tilson move in next door and everything changes.
Can Verity trust what she hears through the walls?And what about the Tilsons: should they pity their eccentric neighbour and her messy house? Or should they fear her?Either way, like the ivy that creeps through their shared garden fence, their lives are entwined now. And the knots can only get tighter . . . 'Seriously superior psychological thriller' Star pick, Sunday Times Crime Club'Stupendously addictive' Deborah Moggach'A smart, compelling and thoroughly haunting read' Mail on Sunday'Pace, place, characters, plot ... it's a masterclass' Gill Hornby'Hard to put down' EVENING STANDARD'The language is honed as sharp as a stiletto.
The murder mystery is teased out to the very last compelling page' Star pick, Sunday Times Crime Club'You think you know what's going on in this brilliant read, then you realise you so don't!' FABULOUS'Deliciously sly and profoundly moving' JP Delaney'Elegant and astute' Louise O'Neill'A masterfully plotted page-turner' Erin Kelly'Engrossing, astute, disturbing and so believable' Sarah Hilary'I loved it' Sarah Vaughan'This well-paced, intelligent mystery benefits from finely-drawn characters and convincing psychological tension ... take a peek at the raging traumas behind the calm masks of suburban respectability' Daily Mail'A compelling read that strikes a chill straight into your heart' Dinah Jefferies'A delicious study in dark psychology with a narrator who constantly keeps you guessing.
This tale serves up a real emotional punch' SUNDAY MIRROR'A taut thriller with layer upon layer of suspense and twists right to the very last page' Red'Sucks you in and keeps you wanting more.
Just when you think you know someone, think again...' HEAT'One not to miss' WOMAN'Chilling' The I'Durrant builds a sense of menace and the ending is satisfying, with a believable twist' Good Housekeeping'Spine-tingling' Crime Monthly'Engrossing psychological crime' LITERARY REVIEW
Information
Format:Hardback
Pages:320 pages
Publisher:Hodder & Stoughton
Publication Date:09/07/2020
Category:
ISBN:9781473681644
Information
Format:Hardback
Pages:320 pages
Publisher:Hodder & Stoughton
Publication Date:09/07/2020
Category:
ISBN:9781473681644