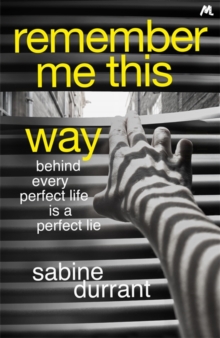 Remember Me This Way : A Dark, Twisty and Suspenseful Thriller
Hardback
Description
Everyone keeps telling me I have to move on. And so here I am, walking down the road where he died, trying to remember him the right way.
A year after her husband Zach's death, Lizzie goes to lay flowers where his fatal accident took place.
As she makes her way along the motorway, she thinks about their life together.
She wonders whether she has changed since Zach died.
She wonders if she will ever feel whole again. At last she reaches the spot. And there, tied to a tree, is a bunch of lilies. The flowers are addressed to her husband. Someone has been there before her. Lizzie loved Zach. She really did. But she's starting to realise she didn't really know him. Or what he was capable of ...
Information
Format: Hardback
Pages: 352 pages
Publisher: Hodder & Stoughton General Division
Publication Date: 17/07/2014
Category: Crime & mystery
ISBN: 9781444762440
Other Formats
Paperback from £7.85
EPUB from £2.99
Free Home Delivery
on all orders
Pick up orders
from local bookshops
Reviews
Showing 1 - 2 of 2 reviews.
Review by nicx27
16/06/2015
Lizzie Carter is mourning her husband, Zach Hopkins, who died a year ago. Although he was controlling and difficult, she misses him but when she visits his cottage in Cornwall for the first time since his death she starts to realise she didn't really know him at all. As she looks further into his life she gets more and more uneasy about the life they shared and the secrets he kept.I never knew which way this book would go and it kept me guessing until the end. It's quite a tense and, at times, sinister read with lots of twists and turns and I raced through it trying to second-guess what was going to happen. I wanted to shout into the book at Lizzie's naivety too. It's another excellent psychological thriller from Sabine Durrant - I look forward to the next one.Thank you to the publishers and Netgalley for allowing me to review this book.
Review by jenladuca
27/08/2015
In Remember Me This Way it has been 12 months since Lizzy's husband died in a freak car accident. The story opens with Lizzy returning to the crash site to place flowers as a memorial to Zach, her late husband. While she's there, she notices that somebody else has already left flowers and there's a card addressed to Zach from a woman's whose name she doesn't recognize. This triggers thoughts in Lizzy's mind about all the strange things that have been happening lately and her constant feeling of being watched and followed. Soon, Lizzy starts to question if Zach really died at all.<br/><br/>I absolutely loved this book! From the first page - straight through to the last, it totally sucked me in and I couldn't put it down. The story is told from the alternating perspectives of Lizzy and Zach; I love this style when it is done well! Lizzy tells the story in the present day as she investigates into whether or not Zach really died. Zach tells the story in the past, from the time they first meet – leading up to the day he "died". Soon, Lizzy starts to realize that her entire marriage was built on lies and deceptions, that Zach wasn't at all the person she thought he was. But does this prove that he's still alive? And if he is, why has he faked his own death? Is he stalking her? Trying to punish her for something? Or simply trying to make Lizzy feel like she's going crazy? I was asking myself these same questions right along with Lizzy, worried for her yet impatient to find the answers!!<br/><br/>Sabine Durrant has created a terrifyingly creepy character in Zach, crawling inside this man's head for any length of time would give most of us nightmares! Lizzy, on the other hand, is very down to earth and trusting. At first she's presented as a grieving, almost weak woman who might not be all that stable. But gradually, as her husband's true nature comes to light; she changes into a strong woman who's ready to take control of her own life and her own destiny. I really enjoyed her character development and was so glad she wasn't left as the "classic victim". This story has so many twists and turns; I rapidly read through each chapter, changing my mind back and forth as to what I thought really happened and why. I've read many books of this style so I thought I'd read it all as far as possible outcomes and endings go, boy was I wrong! So glad that I was, this ending was fabulous!! It then only took me 5 minutes to locate and purchase Sabine Durrant's first novel Under Your Skin :) Mrs. Durrant is quickly becoming one of my new favorite authors of 2015.<br/><br/>**I received a complimentary, advanced copy of this book from NetGalley and the publisher, Atria Books, in exchange for my honest review**<br/>