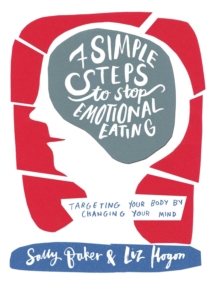 Seven Simple Steps to Stop Emotional Eating : Targeting Your Body by Changing Your Mind
Paperback / softback
Description
Are overeating and staying over-weight unconscious 'survival decisions' for you or someone you care about?
If they are, no matter how many tried-and-tested diets you follow, you will not succeed.
Therapists Sally Baker and Liz Hogon offer this practical guide to understanding the emotional reasons for overeating and how to overcome these, based on their training and experience in Emotional Freedom Technique (EFT), hypnotherapy, PSTEC and other related therapies.
Throughout they illustrate their approach with client case histories and help readers to put theory into practice with step-by-step exercises.
Information
Format: Paperback / softback
Pages: 216 pages
Publisher: Hammersmith Health Books
Publication Date: 16/04/2015
Category: Diets & dieting
ISBN: 9781781610589