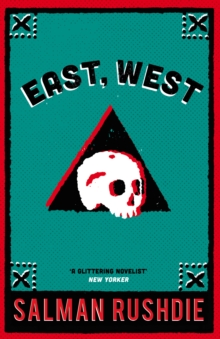 Description
This dazzling collection of short stories explores the allure and confusion of what happens when East meets West.
Fantasy and realism collide as a rickshaw driver writes letters home describing his film star career in Bombay; a mispronunciation leads to romance and an unusual courtship in sixties London; two childhood friends turned diplomats live out fantasies hatched by Star Trek; and Christopher Columbus dreams of consummating his relationship with Queen Isabella.
With one foot in the East and one foot in the West, this collection reveals the oceanic distances and the unexpected intimacies between the two.
Information
Format: Paperback
Pages: 192 pages
Publisher: Vintage Publishing
Publication Date: 07/09/1995
ISBN: 9780099533016
Free Home Delivery
on all orders
Pick up orders
from local bookshops
Reviews
Showing 1 - 2 of 2 reviews.
Review by tdfangirl
16/06/2015
I have to admit that I haven't read the entire collection of stories yet, but this is worth it for "The Prophet's Hair" alone. I love Rushdie's writing style.
Review by anyotherbizniz
16/06/2015
A fascinating curate's egg of a collection.The first three "East" stories are disarmingly charming. My favourite story in the book is the first story "Good Advice Is Rarer Than Rubies", which is brilliantly simple, beautiful, romantic and unsurprisingly surprising; the very image of the principal character, on whom I think I have a bit of a crush. The following two stories are distinctly, charmingly, but very differently eastern - first "The Free radio" a modern parable with the bones of the dark side of India poking through and then "The Prophet's Hair" which has that whole One Thousand and One Nights thing going on.The second three "West" stories are, in sharp contrast, everything I dislike about smart-arsed english story telling in the knowing post magic realism world. They read like bad pastiches of Julian Barnes meets Tom Stoppard, ie "Yorick"; or of David Mitchell, ie " At the Auction of the Ruby Slippers" or Julian Barnes dumoing Stoppard for my mum ", ie "Christopher Columbus and Queen Isabella of Spain Consummate Their Relationship". All three were to me as bad as the first three were good. Did Rushdie write them partcularly badly to make some point about western literature?But the last three "East meets West" are really the whole point of the book for me. All three explore the interaction of modern Western culture with ancient Eastern culture. All happen within the UK and within a very British society which is far more than just the backdrop - it is almost a character in the stories. I agree with the other reviewer that these three stories really do show Rushdie's mastery of the language and are filled with wonderful prose. All that and a there is a sexy Mauritian in the book too.If it hadn't been for the disappointing middle section I would be saying this is the best book of short stories I have read for some years.