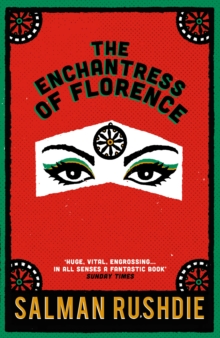 The Enchantress of Florence
Paperback
Description
When a young European traveller arrives at Sikri, the court of Mughal Emperor Akbar, the tale he spins brings the whole imperial capital to the brink of obsession.
He calls himself `Mogor dell'Amore', the Mughal of Love, and claims to be the son of a lost princess, whose name and very existence has been erased from the country's history: Qara Koz, or `Lady Black Eyes'. Lady Black Eyes is a fabled beauty believed to possess great powers of enchantment and sorcery.
After a series of abductions by besotted warlords, she finds herself carried to Machiavellian Florence.
In her attempts to command her own destiny in a world ruled by men, Lady Black Eyes brings together the two great cities of sensual Florence and hedonistic Sikri, so far apart and yet so alike, and two worlds become dangerously entwined.
Information
Format: Paperback
Pages: 464 pages
Publisher: Vintage Publishing
Publication Date: 24/12/2005
ISBN: 9780099421924
Free Home Delivery
on all orders
Pick up orders
from local bookshops
Reviews
Showing 1 - 2 of 2 reviews.
Review by cerievans1
16/06/2015
When I picked this up, I was hoping it would be as good as or better than Shalimar the Clown. Unfortunately, I was quite disappointed, I found the characters unengaging and did not care what happened at the end. Quite a lot of nonsense.
Review by alexdallymacfarlane
16/06/2015
I'm glad I finally got around to picking up a Rushdie book. On a sentence level, I was utterly delighted. On a wider-story level, I enjoyed the main plot. However, however... The book is in part about a woman called Qara Koz who attempts to make her own path in life. To do this, she must fall in love with various men as needed to help her. While I appreciated the mercenary nature of her love, I found it irritating that she must ~love~ all of these men, utterly and completely, rather than coldly use them (or some of them -- I can understand falling in love accidentally, but immediately every time?) I suspect Rushdie was trying to show, with her reliance on men, that a woman in that time had no other option. Why she had to love them all, I don't know. (Women are incapable of being cold mercenaries? Uugh.) Equally I'm not sure what he was trying to show by never really giving her a viewpoint. Her story is told by men. This bothers me immensely. It also means that while her base motive ('I must survive') is pretty transparent, other actions are less clear. Why, exactly, does she feel the need to work her magic on Florence and make it so wonderful? I guess it could tie into her need to survive -- making the city wonderful ensures people won't boot her out -- but it would have been nice to hear this from ~her~. Nevertheless, I found this book quite interesting (it had repeating motifs, a fascinating setting, lush descriptions and some good characters). Defintitely worth a read, and I intend to seek out more of Rushdie's work.
Also in the Vintage Magic series | View all