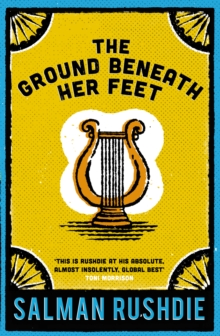 The Ground Beneath Her Feet
Paperback
Description
On Valentine's Day, 1989, Vina Apsara, a famous and much-loved singer, disappears in a devastating earthquake.
Her lover, the singer Ormus Cama, cannot accept that he has lost her, and so begins his eternal quest to find her and bring her back.
His journey takes him across the globe and through cities pulsating with the power of rock 'n' roll, to Bombay, London and New York. But around the star-crossed lover and his quest, the uncertain world itself is beginning to tremble and break.
Cracks and tears are appearing in the very fabric of reality, and exposing the abyss beyond. And Ormus has to confront just how far he is willing to go for love.
Information
Format: Paperback
Pages: 592 pages
Publisher: Vintage Publishing
Publication Date: 01/02/2000
ISBN: 9780099766018
Free Home Delivery
on all orders
Pick up orders
from local bookshops
Reviews
Showing 1 - 1 of 1 reviews.
Review by flissp
16/06/2015
The book begins with the disappearance/death (during an earthquake) of Vina Apsara, rock goddess and the love of two mens lives; Ormus Cama, fellow rock star and Umeed "Rai" Merchant, photographer and narrator, both of whom she has know the majority of her life. Rai traces the history of Ormus, Vina, their band VTO and his own life from the 1950's to the 90's, through the changing face of Rock, via Bombay, London and the USA, to Vina's end in Mexico and beyond, in a universe that has twisted away from our reality and is suffering the consequences. There are many subtle and (mostly) not so subtle differences (Lou Reed is a woman, the assassination attempt on the life of JFK in 1963 was unsuccessful, VTO is the biggest band in the world...) between this world and our own but there also many (again, not so subtle) covert parallels.The story is described as a retelling of the Orpheus/Eurydice myth and certainly the theme keeps reappearing, as do many other links between myth, religion and reality, at heart, however, it's the classic love triangle with a twist or two, set in the world of Rock.First of all, I want to state for the record that I very much enjoyed it. However, despite this and being completely absorbed every time I picked it up, I did find myself constantly being distracted by other books. What I'm saying, I think, is that it wasn't a truly gripping book in the usual sense. This wasn't completely because the book starts with the end - there are enough twists and turns throughout that you know the end at the beginning is not the whole story (if you follow my tongue twister!). The photographic imagery at various moments is incredibly vivid (there are one or two scenes I can picture now), and the many minor characters, and their stories, wonderful, but at times the plot becomes a little ponderous. The structure jarred me a little too - 5/6 of the book leading back up to the earthquake and then what felt (to me anyway) like a sudden change of direction and, in some ways, pace, for the final 1/6. I also struggled a little with just why these two men (and indeed the whole world) would fall in love with such an irritating character as Vina (oooh I hate it when people end every sentence with a question? Even when it's not obviously a question? You know what I mean?!) - and, indeed, the fact that every single character seems to be incredibly self-absorbed (not just those who are famous - seriously, I'm really struggling to think of a character with more than a couple of lines who isn't). But these were really quite minor annoyances in the general scheme of things and I really am glad that I read this.