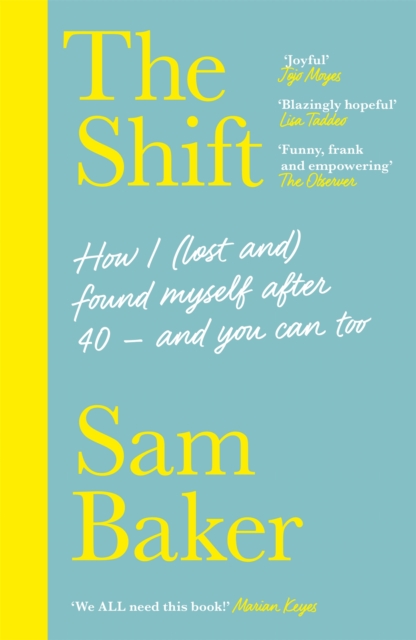 The Shift : JOIN THE MENOPAUSE REVOLUTION
Description
'If you're a woman over 40, ever going to be a woman over 40 or you've ever met a woman over 40 you should read this book' JANE FALLON'I NEED this book.
We ALL need this book! If menopause happened to men, there would be CELEBRATIONS and parties every time one of them completed their change.' MARIAN KEYES'A compelling voice within [the menopause] movement' DAILY TELEGRAPH'Funny, frank and empowering... a vital book for any woman who is at the beginning of her radicalisation journey, looking at her life and finally piecing together the personal and the political.' THE OBSERVER'Sam Baker is rewriting the narrative around menopause' WOMAN & HOME'A rollicking read' MAIL ON SUNDAY'I loved it.. blazingly hopeful and beautifully written. This book is meant to be mainlined.' LISA TADDEO'This gem is a guide to navigating your 40s and 50s and just generally being yourself. ... joyful, positive, and goes to ALL the places. Highly recommended.' JOJO MOYESThe essential manifesto for any woman staring the second half of their lives in the face and wondering, WTF is going on?* Invisible to society now you're past child-bearing age?* Tired of being disregarded, overlooked and underestimated?* Wondering what the hell is happening to your body, mind and internal thermostat?Women over forty are the most ignored demographic in society. And yet this is the time when you are likely to have the most freedom, power, confidence and self knowledge than ever before.
Some serious life has been lived: there have been great loves, heartbreaks, births, marriages, careers, betrayals, bereavements and survival.
So what now? What happens when the narrative given to you by society - husband, babies, house - runs out and you become storyless?
Including chapters on menopause, sex, culture, work, rage and freedom, writer and journalist Sam Baker shares her experiences of life post 40 and shows how women to create their own story. This needn't herald the era of loose clothing and hair dye; or hot flashes and bad sleep (though there is that too). It's time women north of 40 took a leaf out of the millennial handbook and reinvented things our way.
Sam hosts a podcast of the same name, now with over 50 thousand downloads.
Harness your energy, opinions and power and create a liberating new narrative for the second half of life. 'I am so glad The Shift exists. Sam's writing is a wonderful generous mixture of no-bullsh*t and a comforting hug.
I'll be passing this book on to many women I know and love.' EMMA GANNON 'brilliant - powerful, brimming with integrity, inspiring, the politics of anger and what it means when we refuse to be invisible.
Every woman (whatever her age) should buy, borrow, lend a copy' KATE MOSSE'This is such a painfully beautiful look at the menopause in all its complexity.
As honest as it is insightful, this is the first book I've read about later womanhood that exchanges shame and fear for truth and celebration... does for 40-something women what the honest parenting movement did for mothers.' ANNA WHITEHOUSE, founder, Mother Pukka'great pace and feisty content.
It will be a great help to women to see their lives mirrored and not feel like they are going mad... bold and funny.' CARYN FRANKLIN'[Sam] tackles the menopause with her customary wit and wisdom' i PAPER'Honest and witter account of life post-40.
Makes for essential reading at any age.' - KATE WILLS, FABULOUS MAGAZINE'Insightful, thoughtful, inspirational - impressive work.' - VICTORIA DERBYSHIRE
Information
Format:
Pages:304 pages
Publisher:Hodder & Stoughton
Publication Date:15/04/2021
Category:
ISBN:9781529329780
Other Formats
Hardback from £14.95
EPUB from £2.99
Information
Format:
Pages:304 pages
Publisher:Hodder & Stoughton
Publication Date:15/04/2021
Category:
ISBN:9781529329780