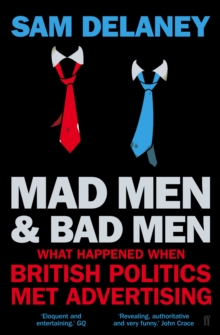 Mad Men & Bad Men : What Happened When British Politics Met Advertising
Paperback
Description
How did a bunch of unelected, unaccountable admen end up running British politics?
Sam Delaney wanted to find out more about the strange relationship between British politics and advertising.
What happened when a rag-tag band of scruffs and smart-arses invaded Westminster, sprinkling creative fairy dust over earnest politicians?
How much did snappy slogans and simplistic soundbites influence election results and even government policies?
Sam decided to talk to the people at the heart of it: Alistair Campbell, Peter Mandelson, Tim Bell, Maurice Saatchi, Norman Tebbit, Neil Kinnock - and many more.
Everything is here - the moment Margaret Thatcher met the Saatchi brothers, the famous 'Labour Isn't Working' poster and the infamous 'Demon Eyes' campaign.
Here, too, are the stories they didn't want you to hear: the man who snorted coke in Number 10, the fist-fights in Downing Street, the all-day champagne binges in Westminster.
Dark, revealing and frequently hilarious, Mad Men and Bad Men is a hugely entertaining behind-the-scenes tour of the election campaigns of the last four decades. Here are the posters, political broadcasts, slogans and stunts that got us into the mess of spin and hype we are in today.
Free Home Delivery
on all orders
Pick up orders
from local bookshops
Reviews
Showing 1 - 1 of 1 reviews.
Review by atticusfinch1048
27/08/2015
Mad Men & Bad Men: What happened when British Politics met Advertising.I was ten years old when Margaret Thatcher became Prime Minister in 1979 and remember my dad telling me that woman was evil incarnate especially with the posters that were produced for the Conservatives. A couple of weeks later we northern school children spent a week at Butlins in Clacton and on the way back we went to Downing Street, stood where the press pack now stand, and saw that women. Little did I realise ten years later before the gates went up I would be carried out of Downing Street on an NUS demo and less than ten years after that walking up the street as a guest! But that day started a long time interest, employment in and volunteer activism in British politics at all levels.Mad Men & Bad Men by Sam Delaney explains his own reasons for being interested in politics in this highly entertaining look at how advertising has entered politics for better and for worse. There are some great anecdotes in this book and I love the idea of Ted Heath, then leader of Official Oppossition, being off his tits on amphetamines and I bet Margaret Thatcher wishes she could have used them on him during the longest sulk in British politics.Like many who have been involved in politics remember many of the political posters during are formative years and mine will always be the Tory Tax Bomb poster in the 1992 General Election but the one my father remembers is from a generation before, Labour Isn't Working. One thing they had in common they were created by the Tory Party's golden boys of advertising Saatchi & Saatchi. What I learnt from this book is the Labour Isn't Working poster nearly ended up in the bin twice because Thatcher did not get it at first, once up it was devastating. For a cost of only £50,000 the moaning of the Labour Party especially when they learnt that the 'unemployed' in the poster were Young Conservatives from Hendon gave the poster extra publicity by mentioning it on television and radio interviews. Free advertising for something that was almost rejected."Elections are the sexy part of politics and the ads are the sexiest part of elections" Sam Delaney tells us and while I agree in part I liked being out and meeting the people delivering the leaflets rather than being stuck in an office. When you work in a marginal constituency you tend to notice the political posters of both parties and when I think back to 1997 and the £27million that was spent by political parties did it really change the result? Personally in 1997 I do not think so because I remember doing some private polling and found that one seat that Labour was never going to take was giving positive vibes the staff told me to do it again and again, they won the seat and held it!One of the big questions this book looks at is are modern politicians more obsessed with presentation than policy and people. While we can look back at election campaigns of the past we are now preparing for the election campaign to come and I am sure the Ad Men are rubbing their hands together. This is an excellent book that is best when it recalls various stories about individuals and various poster campaigns, while being a serious looks at an important subject in politics it is done with a great deal of humour.