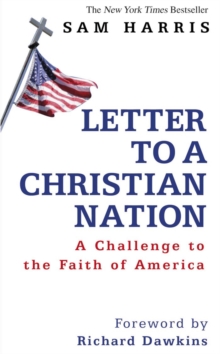 Letter To A Christian Nation
Hardback
Description
"A hard-hitting polemic against religious fundamentalism". (Foreword by Richard Dawkins). 'Thousands of people have written to tell me that I am wrong not to believe in God.
The most hostile of these communications have come from Christians.
This is ironic, as Christians generally imagine that no faith imparts the virtues of love and forgiveness more effectively than their own.
The truth is that many who claim to be transformed by Christ's love are deeply, even murderously, intolerant of criticism.
While we may want to ascribe this to human nature, it is clear that such hatred draws considerable support from the Bible.
How do I know this? The most disturbed of my correspondents always cite chapter and verse.' So begins Letter to a Christian Nation, Sam Harris' hard-hitting rebuttal of religious fundamentalism and blind belief.
With deceptively simple arguments, he demolishes the myths on which Christianity was built, challenges believers to open their eyes to the contradictions of their faith and warns us of the dangers of America's ever increasing unification of Church and State. Sam Harris is the author of the New York Times bestseller The End of Faith: Religion, Terror, and the Future of Reason and winner of the 2005 PEN/Martha Albrand Award for First Non-fiction.
He is a graduate in philosophy from Stanford University and is now completing a doctorate in neuroscience.
He lives in New York.
Information
Format: Hardback
Pages: 112 pages
Publisher: Transworld Publishers Ltd
Publication Date: 01/02/2007
Category: Christian life & practice
ISBN: 9780593058978
Other Formats
EPUB from £8.99
eAudiobook MP3 from £10.04
Free Home Delivery
on all orders
Pick up orders
from local bookshops
Reviews
Showing 1 - 2 of 2 reviews.
Review by MikeFarquhar
16/06/2015
Letter to a Christian Nation, by Sam Harris, is a book written by a man who believes that we are at war. Harris has been one of the most notable liberal voices calling for an absolute response by the West to the crisis precipitated by Islamist terrorism, which he believes is an inevitable function of Islam as a religion.So far, so Archonis (sorry Archie). Harris, though reaching the same conclusions with regards to Islam as many of those on the right-wing of US politics and thought, does so from a different perspective; Islam is at fault in the same way that all religion is, whether that be the radicalising Islam of the east, or the fundamentalising Christianity of his native America. Harris' war is not against Islamism, or Islam – it is against all religion, regardless of its form. Religion, Harris fervently believes, is what will destroy us all unless we rise above it.Letter to a Christian Nation is Harris' epistle to that proportion of his fellow US citizens – about 150 million of them he reckons – who he classes as the fundamental Christian Right. It is a letter in which he puts forward his case against Christianity initially, and then more broadly, religion in all its forms (with a specific section cataloguing the particular dangers he believes Islam poses). His arguments are not new; he does not say anything that has not been said in similar ways many times before – the usual litany of Biblical errors, contradictions and claims to absolute morality. His intent is simply to succinctly convey all the reasons he believes religious faith to be not only wrong, but dangerous.As such, I can't see Harris' slim book achieving its desired effect. To those, like me, who share many of his beliefs, it is preaching to the converted; to those he seeks to persuade, it is simply arguments they have heard before and been unswayed by. He specifically does not set out to sway the moderately religious, who seem the only real target for what he is arguing – but to them too, this will be nothing original.The book is a briefer version of Dawkins' The God Delusion from last year, and the two share much (Dawkins writes the book's introduction, and The God Delusion is the first book cited in the bibliography). As with Dawkins' book, Harris is relentless in his belief that all religion is inherently dangerous, a view which places him both in simultaneous agreement and disagreement with the Christian Right, who are all too happy to share with him a certain knowledge that all Islam is dangerous, but rail against him when he cites Christianity for exactly the same thing.Harris' main failing, like Dawkins, is that he often over-eggs his argument, slipping from calm and tempered argument into an archly manipulative turn of phrase that irritates more than it persuades. In doing so, he is usually simply reflecting the tone of his opponents back onto them, but it does him no favours to stoop to their level.
Review by getupkid10
16/06/2015
Letters to A Christian Nation, one in a line of Atheist books released in recent years (See Christopher Hitchens or Richard Dawkins), is a response to the critics of his previous release, The End of Faith. Harris supposedly wrote Letter to a Christian Nation in response to the many letters, some threatening, he received from Christians who felt he was incorrect for not believing in God. The book focuses on the many inaccuracies and hypocrisies that Harris feels are prevalent in organized religion and in their Gods. Overall, many of his arguments have been heard before, with the "If god is so great, why do bad things happen to his followers?", "If there is intelligence in the design of life forms, then why do humans have appendix?" and "if the writers of the major religious texts are omniscient, why didn't they write about formal math or DNA?"-- OK, well the last one I have never heard. Two out of three ain't bad.Letters makes many good points and uses numerous examples (don't worry, they are much better than the three quotes above) of how God, to steal a line from Hitchens, "poisons everything". He takes shots at both the ardent and liberal believers alike, while creating both humorous ( "Imagine [if]... every debate about public policy was subverted to the whims of ancient authors who wrote well, but who didn't know enough about the nature of reality to keep their excrement out of there food... This is the woefully irrational world that you and your Christians are working so tirelessly to create.") and serious (particularly when he states that we are building "a civilization of ignorance" during his discussion of evolution) arguments.Since I am a realist and an Atheist I found the book persuasive. But I do wonder if it would persuade a believer? How do you convince someone that will fully admit that they believe in the unprovable? Well, if there is a way, Harris didn't find it. I do, however, think that Harris would fully admit this is and will always be an issue and is why religion will last until the dawn of time.