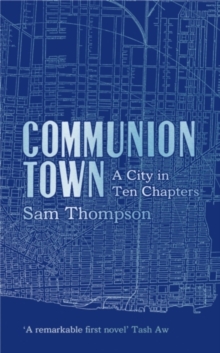 Description
The Man Booker-longlisted novel explores how each of us conjures up our own city.Every city is made of stories: stories that meet and diverge, stories of the commonplace and the strange, of love and crime, of ghosts and monsters.The iridescent, Man Booker longlisted Communion Town is reminiscent of David Mitchell's Ghostwritten and Italo Calvino's Invisible Cities, it is the story of a place that never looks the same way twice: a place imagined anew by each citizen who walks through the changing streets among voices half-heard, signs half-glimpsed and desires half-acknowledged.This is the story of a city.
Information
Format: Hardback
Pages: 288 pages
Publisher: HarperCollins Publishers
Publication Date: 01/07/2012
ISBN: 9780007454761
Other Formats
Paperback from £6.69
EPUB from £3.99
Free Home Delivery
on all orders
Pick up orders
from local bookshops
Reviews
Showing 1 - 5 of 5 reviews.
Review by nomadreader
16/06/2015
The basics: The tagline for Communion Town is "A City in Ten Chapters." Aside from setting the stories have little in common, but instead they give ten different perspectives on the city of Communion Town.My thoughts: I was immediately intrigued by the premise of this novel. I imagined the stories to have some overlapping characters and places. Instead, the more I read, the more convinced I became this book is not really a novel. Ultimately, it's a collection of stories that take place in the same city.I confess I enjoyed this book less as it went on, but Thompson's writing is superb. There were a few stories I didn't care for at all, but for the most part, the writing carried throughout the stories I liked and didn't like. Throughout the first three stories, I kept searching for the common threads, either in character, location or theme. I didn't find much, but there were trends of seemingly realistic stories transitioning to something dreamlike and bordered on science fiction. While I did appreciate this tension determining what is real and what kind of city we're meeting, this theme wasn't explored quite as fully as I would have hoped.Favorite passage: "Have you noticed how each of us conjures up our own city? You have your secret haunts and private landmarks and favourite short cuts, and I have mine, so as we navigate the streets each of us walks through a world of our own invention. And by following you into your personal city, I can learn a great deal of what I need to know."The verdict: Thompson's writing wowed me throughout this book, but the stories I enjoyed most were the first three, and my very favorite was the first story. I hoped for more threads tying these together, and I'm curious if the Booker jury will find more connections than I did as they re-read Communion Town. While the writing is certainly Booker-worthy, I'm not convinced Communion Town is a novel.
Review by bcquinnsmom
16/06/2015
The subtitle of Communion Town is "A city in ten chapters," although it's really a collection of ten short stories with different characters in each one. Common among them all is the city which "doesn't stop, however appalled;" each "chapter" different because, as the narrator in the first story notes, "each of us conjures up our own city." Another link between them all: a character eventually known as "The Flâneur", who wanders throughout the city, not always named as such but he's always there. There's also no let up of atmosphere here -- even in the light of day things are dark and mysterious -- in fact, the book hones in on the mysteries of the city as experienced by different people who populate its streets and districts. There's also a great deal about the power of the story to change lives. On the other hand, aside from these points, there is a lot of play with but little continuity in terms of writing style -- and I'm taking it on faith that there's some purpose behind this device that is designed to make it a novel rather than just a collection of short stories. There are some parts of this book where the author drew me in with prose that triggered some vivid imagery in my head; in other parts, I got frustrated because I shouldn't have to work this hard to try to understand what I'm reading (why do some writers have to show off so?). Above all, I'm wondering which voice is really Sam Thompson's ... why does he have to be so gimmicky here? The first story "Communion Town," which takes place in an interview room, has a great opening that whets the appetite for more and keeps a level of tension going throughout. An unnamed official of some sort with eyes that go everywhere and see everything -- "I'm good at not being seen and in my job locked doors aren't a problem" -- is talking to a newly-arrived woman, Ulya, who came to the city with Nicolas. He is locked away after his involvement in a "terrorist" act; the official is talking Ulya "through the way he sees it," about Nicolas. She'll have the opportunity to correct him and give him her side of the story. The city in this story is composed of a society where homeless or other people on the margins are known as monsters, "ingrates or the abject," "pharmakoi", or "homines sacri"; Nicolas is in the habit of helping these down-and-outers, which is apparently never done in this city, especially not in public. From there the book goes into other mysteries of the city throughout its various districts, told from several different points of view and related via different styles -- horror, noir, a Sherlock Holmes pastiche, sci-fi, etc. Despite the gimmicky-ness of the pastiche styles, I will say that the thinly-disguised Sherlock & Moriarty-type characters of "The Significant City of Lazarus Glass," helped it to become one of my favorite stories of the group, because of the concept of the memory house extending out to the entire city and its very reasoned conclusion. It's also one of the most reader-friendly pieces in the book.Here's the thing, though -- unless the author is aiming his work at a specific target audience, it seems like he's expecting way too much of his readers. As an example, I had to go look up the term "flâneur," to discover it's a concept from Beaudelaire. Well, what do you know -- I haven't read Beaudelaire. Okay, so I get it after looking it up and that's okay. Then I come to the noir-styled story "Gallathea," and off I go in search of insight on the title. Well, hey, whaddya know, it's an Elizabethan-era drama, currently reproduced on stages but of course, not something I've ever seen or for that matter heard of, but after reading about that, I know a little more about what I've just read. So now I'm thinking that perhaps I should have my iPhone in hand to use as an encyclopedia and look up Moll Cutpurse, a character in "Gallathea," and another light bulb goes off over my head. I do a little more digging and discover that there are characters in this story whose names come from a work by Ben Jonson called "The Alchemist." Bingo. The same thing happens again and again in the other stories and then this morning, after I'd written my initial response to this novel yesterday, I start scouring reviews to see what other people had written and I get to one from Strange Horizons where the author notes about the story "Ways to Leave" that "There's even an image from Tarkovsky's Stalker in there if you look for it!" Wow. Do I feel stupid or what for not having noticed that? That's sarcasm, by the way.I'm not saying that this is a bad book, because it's not. I love the atmosphere and there are some really good stories -- "The City Room," for example and I've already mentioned "The Significant City of Lazarus Glass." In fact, I liked many of the stories in this book. I could deal with the structural concept, I didn't mind that many stories were left without a resolution or explanation -- these are, after all, stories based on the mysteries of the city -- nor did I really get too hung up on trying to make connections -- they're there. There are also some really super moments of prose where I could actually see what the author's describing -- take this one from "Gallathea," for instance: "Behind me was the Part Bridge and ahead lay the wreck of the west pier, its grand pavilion listing down to the mud like a crash-landed flying saucer, with the fishbones of decayed struts bowed underneath."What a great image! That one just sprung out and I could really see it. Or here's another from the same story: "I was moving through a new set of dimensions, subtle dimensions of treachery, marked in increments of outrage. I discovered a whole new city, mapping streets of fury and avenues of humiliation and gridlocked intersections of desire." That comes off very clearly -- who couldn't enjoy such lovely writing? I think the atmosphere and the ability of the prose to bring out such vivid images is really well executed, but sheesh! It's tough from the casual reader perspective to wholeheartedly engage with a book when you're concerned about how much you may be missing. So for me, Communion Town turned out to be a mixed bag, leaning more to the side of frustration. On the other hand, if Mr. Thompson decides to write a novel in the future, I'd definitely be willing to give it a go.
Review by edgeworth
16/06/2015
I do have such wonderful taste in Booker Prize predictions – I finished this one the day it was dropped from the list.Communion Town is a "city in ten chapters," which is a fancy way of saying that it's a bunch of short stories with a few mild links, all taking place inside the same constantly shifting, everywhere-but-nowhere metropolis. I'm quite partial to stories that explore and celebrate the concept of the city – see Brandon Graham, China Mieville, Jeff Vandermeer, and, I suppose, Philip Reeve. Communion Town may well be the book that breaks that spell for me. I found myself not only disliking its obsession with the the city, but disliking even the fact that Thompson thought anyone might be interested in it.The city of Communion Town is unnamed, many of the characters in the stories are unnamed, and even the more interesting parts of the book – the nameless horrors which lurk in the night-time alleyways, desperately accosting people to "tell them a story" – go unnamed and unexplained. Thompson usually deals more in thought and introspection and summary than he does in concrete things like dialogue and scene and, well, plot. The city is meant to be every city, any city, no city – which works less as a celebration of urbanity and more as an irritating conceit which prevents the book from ever achieving any sense of place. Thompson's preference for generalisations over specifics, for summary over scene, quickly becomes tiresome. Example:<i>Every pleasure palls. In a short time Stephen had learnt to drink deep of experimental delights that would have frightened most of us if we understood them, but the richer the meal, the sooner the appetite wanes, and the epicurean longs for more exotic flavours. He never saw himself as a sybarite; he thought of his explorations as light-hearted, even a kind of joke. But anyone can drift away from themselves when nothing is forbidden. Before he realised it the mask wouldn't come off: he was corrupt with luxury, famished with feasting. The society knew how to watch for its moment. His mind and body were precise instruments for their own indulgence, but his imagination was sickly with exhaustion. He had fallen into the lassitude of one who has gone too far in the secret regions of experience, achieved too much in the sphere of private ambitions; now the tawdriness of the world was making him ill. His exquisite appetites troubled him more than ever but there was nothing, it seemed, that could answer anymore to his needs. He was bored.</i>So was I. How can you expend so many words and yet say so little? The result of passages like this – strung into stories, strung into a "novel" – is that I never connected with a single character, never connected with the city, never really cared about what was going on. It was one of those books I had to force myself to finish.I saw nothing of the "genre pastiche" that had reviewers comparing this to the far superior David Mitchell. I only noticed two stories rendered in a deliberate genre style, that of Sam Spade and then Sherlock Holmes. Both of these were awkwardly written, with imitation prose interrupted by Thompson's own flights of philosophical fancy – so that, for example, a gumshoe getting roughed up by thugs in a dirty alleyway pauses to notice a black and gold lizard watching him from a trash can, and reflects that he'd "never seen one like it in the city." (So much beauty in the world!) The stories, for the most part, lap over onto each other like waves of tedious melodrama, and I barely noticed when shifting from one to another except to mark my relief that the book was drawing closer to its conclusion.Last year's Booker longlist, for all its scandal about "readability," featured a number of very interesting novels that took the trouble to tell a story. This year's has shoved the gearstick back up to highbrow, and I'm sure Sam Thompson's Communion Town isn't the only nominee that sacrifices function for form; I've heard nightmarish things about Will Self's Umbrella, and an article Ned Beauman wrote about himself in The Awl was marinated in arrogance and put me off ever reading any of his books. The Booker committee is welcome to their summer of difficult, tedious novels that are more pre-occupied with self-absorbed experimentation than they are with telling stories or saying something worthwhile.I could end the review there, but I feel like I've been a bit too vitriolic for a first novel, so I'll mention a couple of redeeming factors. Thompson is certainly skilled with the written word, and there are sentences or passages of description in Communion Town which paint a vivid picture and genuinely stand out. (He just needs to learn to restrain himself when delving into his characters' mental geography.) The book is an experiment in what can be accepted as a novel, and originality should always be encouraged. (He just needs to realise that experimentation must be tempered, and that not everyone will be as interested in his conceits as he is.) And, finally, I'm in the minority- most people seem to have liked Communion Town. So there you go, make your own decision.
Review by kidzdoc
16/06/2015
This city is Epidamnus while this story is being told: when another one is told it will become another town. — PlatusHave you noticed how each of us conjures up our own city? You have your secret haunts and private landmarks and favourite short cuts and I have mine, so as we navigate the streets each of us walks through a world of our own invention.This strange and uneven but fascinating "novel" (using the term loosely) is set in Communion Town, a fictional modern city which is recognizable yet sinister and inscrutable. Its places and neighborhoods have strange names, such as Shambles Heath, Strangers' Market and Gorgonstown. Its streets are often filled with days old rubbish, and most homes and shops are decrepit and unkempt. On its sidewalks, tourists and workers frequently encounter packs of wild youths, the Cynics who are a constant threat to public safety, and shabbily dressed figures who lie motionless on the ground but suddenly come to life and demand attention whenever anyone gazes upon them. The nights are filled with even more dangers, as malevolent flâneurs and ghost-like figures prey upon unwary passersby.The book consists of ten stories, in which the characters within each chapter view and describe the city from different vantage points, in the manner of individuals who describe an elephant from different angles. Unlike the stories in books such as Other Lives by André Brink and Scenes from Village Life by Amos Oz, which are also set in one city, the main characters in the different chapters of Communion Town do not interact with each other, although rarely a figure who seems familiar makes an appearance at the periphery, then disappears once you gaze in his direction. Several of the chapters are hauntingly brilliant, particularly "Communion Town", which opens the book, in which a voyeuristic narrator speaks to a recent young female immigrant who he fancies, whose partner has mysteriously disappeared within the city; "Good Slaughter", based on a slaughterhouse worker who holds a deep resentment and suspicion of his new supervisor; and "The Significant City of Lazarus Glass", based on a murder mystery involving the city's most respected private investigator and his arch nemesis, who was a dear friend and trusted colleague before he became the city's most feared and elusive criminal. Other stories were well written but less captivating, and a few were trivial and overly clever.As a whole, the stories in Communion Town had a dreamlike but dark quality to them, with an ever present sense of fear, uncertainty and menace. The book is best read as a collection of beautifully written but unrelated stories about a mysterious city the first time around, and those who wish to give it a second try can look for the apparent connections between the chapters and their characters. I was prepared to dislike this book, after I read several lukewarm reviews in the British newspapers and negative comments by private readers. However, I was captivated by it, despite its unevenness, and unlike many I do think it deserved its inclusion in last year's Booker Prize longlist. It is a unique and unsettling debut work by a talented author who is willing to take risks and succeeds more often than he fails.
Review by shanaqui
16/06/2015
Not sure what to think of this one. It's beautifully written, and each story drew me in and made me question and tilt my head and try to figure it out, but I don't know if I found it satisfying. I wanted to know more -- of course, that's what you're meant to feel with this book, I think, so in that the author succeeds. But I look for satisfaction when I read a book, not to feel like it was a three hundred page tease -- I want a glimpse, if only a small one, into the heart of the work, the city. I wanted to go just a step or two closer to the Flâneur.<br/><br/>In practice, this book is not a novel but a collection of short stories, each of which is only mildly conclusive in itself, often almost circular. The opening story caught my interest with the narratorial voice, and some of the other stories in their pastiche styles amused me, but... it's like that line from The Vintner's Luck, flirtation and not love. I was entertained and amused, so it's not as though I bounced off the work entirely, but nor did I really participate.
Also by Sam Thompson