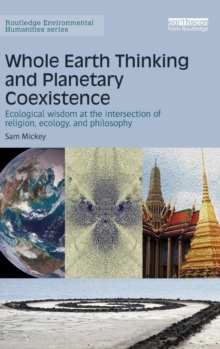 Whole Earth Thinking and Planetary Coexistence : Ecological wisdom at the intersection of religion, ecology, and philosophy
Hardback
Description
Like never before in history, humans are becoming increasingly interconnected with one another and with the other inhabitants and habitats of Earth.
There are numerous signs of planetary interrelations, from social media and international trade to genetic engineering and global climate change.
The scientific study of interrelations between organisms and environments, Ecology, is uniquely capable of addressing the complex challenges that characterize our era of planetary coexistence.
Whole Earth Thinking and Planetary Coexistence focuses on newly emerging approaches to ecology that cross the disciplinary boundaries of sciences and humanities with the aim of responding to the challenges facing the current era of planetary interconnectedness.
It introduces concepts that draw out a creative contrast between religious and secular approaches to the integration of sciences and humanities, with religious approaches represented by the "geologian" Thomas Berry and the whole Earth thinking of Stephanie Kaza and Gary Snyder, and the more secular approaches represented by the "geophilosophy" of poststructuralist theorists Gilles Deleuze and Felix Guattari. This book will introduce concepts engaging with the ecological challenges of planetary coexistence to students and professionals in fields of environmental studies, philosophy and religious studies.
Also in the Routledge Environmental Humanities series | View all