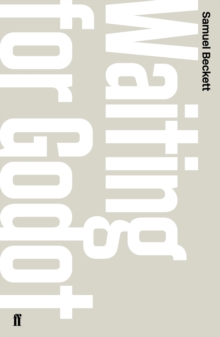 Waiting for Godot : A Tragicomedy in Two Acts
Paperback
Description
Subtitled 'A tragicomedy in two Acts', and famously described by the Irish critic Vivien Mercier as a play in which 'nothing happens, twice', En attendant Godot was first performed at the Theatre de Babylone in Paris in 1953.
It was translated into English by Samuel Beckett, and Waiting for Godot opened at the Arts Theatre in London in 1955. 'Go and see Waiting for Godot. At the worst you will discover a curiosity, a four-leaved clover, a black tulip; at the best something that will securely lodge in a corner of your mind for as long as you live.' Harold Hobson, 7 August 1955'I told him that if by Godot I had meant God I would have said God, and not Godot.
This seemed to disappoint him greatly.' Samuel Beckett, 1955
Information
Format: Paperback
Pages: 128 pages
Publisher: Faber & Faber
Publication Date: 03/09/2009
Category: Plays, playscripts
ISBN: 9780571244591
Other Formats
Paperback from £7.69
EPUB from £7.98
Free Home Delivery
on all orders
Pick up orders
from local bookshops
Reviews
Showing 1 - 2 of 2 reviews.
Review by gbill
16/06/2015
One can understand why the Irish critic Mercier quipped it's a play in which "nothing happens, twice." In <I>Waiting for Godot</I> Beckett is certainly not telling a conventional story, and while he includes small bits of humor, he's really commenting on the human condition, and with a very existential view. Life is absurd, meaningless, repetitive, confusing, cruel, and isolated. Some have equated Godot, who the characters Vladimir and Estragon wait unsuccessfully for throughout the play, to God, and I think there is some truth to that as Beckett references or alludes to religion in several places – but I think more generally, Godot symbolizes any higher meaning, anything that would give this brief, transient life a purpose. That could be God for some and something else for others, but regardless, for these two, that meaning never comes. They end the play having answered no questions or taken any direction, pondering suicide, and are frozen into inaction by waiting for Godot so much so that they simply stand there even after agreeing to go. Oops, was that a spoiler? The play is full of contradictions, repetitiveness, and questions – and there is little wonder why theatergoers and critics at the time exited thinking, wow, I just saw a whole bunch of nothing. Even the brutality and cruelty to others is presented as matter of fact and subdued. Beckett is making a philosophical statement at a time when, post-WWII, existentialism was on the rise, that feeling of bewilderment at life and the world around us, in part a reaction to man's inhumanity to man, in part due to continued modernism and the growing disbelief in a grandfatherly higher power in the sky. I wouldn't guess this would be a 'date play' unless you're dating an intellectual or a philosophy major, and I suppose one's enjoyment of the written form is going to vary wildly as well, but I found it timeless, and a great artistic representation of the philosophy.Quotes:"quaquaquaqua" :)
Review by Bruce_Deming
02/03/2016
Story is like doing laundry. Watching the drier go round. Knowing it will happen again next week. <br/><br/>Supposedly means 'Waiting for God." They wait and wait.<br/><br/>Hey maybe i have this confused with No Exit by Sartre. By gum i do. Existentialism is dull.