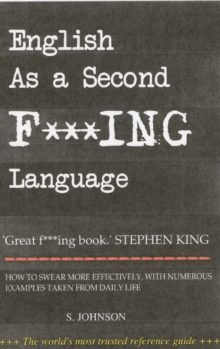 English as a Second F***ing Language
Hardback
Description
In the English language, swearing is essential to effective communication.
Whether you want to succeed in business, school, or social circles, a strong command of vocabulary is absolutely necessary.
English as a Second F***ing Language (ESF*L) is the perfect way for both nonnative speakers to learn the basics and native speakers to brush up on the art of swearing with a wide variety of twists and new refinements.
Page after page, ESF*L provides colourful swearing synonyms designed to boost your vocabulary - everything from the conventional d*mn and sh*t to a host of more inventive terms that would make any truck driver or fish wife blush. And when you're finished reading, our Final F*cking Exam is the perfect test of your swearing skills.
You'll be surprised by how much you've learned!
Information
Format: Hardback
Pages: 202 pages
Publisher: Gibson Square Books Ltd
Publication Date: 14/09/2010
Category: Slang & dialect humour
ISBN: 9781906142803