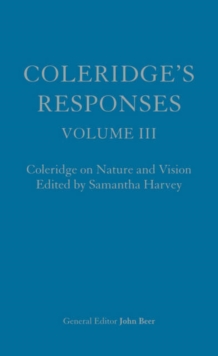 Coleridge's Responses : Selected Writings on Literary Criticism, the Bible and Nature v. 3
Hardback
Description
The appearance of hitherto unpublished material during the last hundred years has brought out more fully the range and complexity of Coleridge's intelligence and knowledge.
Complete publication of the "Notebooks and Collected Works", together with that of the previously assembled "Collected Letters", have made it increasingly evident that this was the most extraordinary English mind of the time.
The specialist or more general student who wishes to know what Coleridge had to say on a particular subject may, however, find the sheer mass of materials bewildering, since in his less formal writings he passed quickly from one subject to another. "Coleridge's Responses", like its predecessor, "Coleridge's Writings" published by Palgrave, is a series addressed to such readers.
In each volume, a particular area of Coleridge's interest is explored, with an attempt to present his most significant statements and to show the development of his thought on the subject in question.
This major compilation not only arranges selections from Coleridge by themes but also, through notes and introductory material, elucidates and interprets the material. Covering Coleridge's wide-ranging criticism of other writers and statements on writing itself, his analysis and observation of nature and its powers and his enlightened view of the Bible achieved through constant study and annotation, this collection provides a comprehensive overview of his writings on these major areas of interest and knowledge.
Information
Format:Hardback
Pages:1240 pages
Publisher:Bloomsbury Publishing PLC
Publication Date:17/01/2008
Category:
ISBN:9780826475763
Also by Samuel Taylor Coleridge | View all