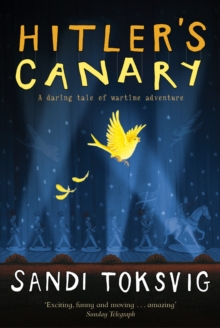 Hitler's Canary
Paperback
Description
It's April 1940 and German troops are pouring onto the streets of Denmark. 12-year-old Bamse is ordered by his father to keep his head down and stay out of trouble.
But Bamse and his daring friend Anton can't resist playing the occasional practical joke on the invading soldiers.
When it becomes clear that the trouble isn't just going to pass them by, the people of Denmark decide to take action and Bamse and his eccentric family are about to take part in one of history's most dramatic rescues - smuggling Denmark's Jewish population, across the water to Sweden, and safety.
Many of the characters are based on Sandi's own family, including her father, Bamse, and the book was inspired by the stories her told to her.
Information
Format: Paperback
Pages: 304 pages
Publisher: Random House Children's Publishers UK
Publication Date: 06/07/2006
Category: Adventure
ISBN: 9780440866626
Free Home Delivery
on all orders
Pick up orders
from local bookshops
Reviews
Showing 1 - 3 of 3 reviews.
Review by eleanor_eader
16/06/2015
Perhaps because this is written for young adults, this partly biographical account of one family's bravery during the occupation of Denmark by the Germans is very frank, and the details somewhat un-shaded beyond the fear and confusion that soon becomes a constant in young Bamse's life. Because he begins naively, the naïveté of his Country at first seems reasonable. Over time, his growing bravery is echoed in his family, his community and his country. The actions of his family, his neighbours and his country are all well researched and based on real accounts, though of course even a family biography will be subject to fictional in-filling after time.I think this book deserves recognition as an important addition to the genre of young adult books about the Holocaust, the German invasion, and even simply about the dangers of treating people differently just because of how they look or what they believe. Its location and approach is subtly different than those books that try to deal with the Jewish interment from an immediate point of view, but no less horrifying for that.
Review by yellowoasis
16/06/2015
This is a story about the little-known (to me anyway) Danish resistence movement during the German occupation in World War Two. Young Bamse is from a theatrical family living in Copenhagen. At first, they do not understand the implications of the German occupation, especially as the story is written from a child's point of view. As the German grip becomes tighter and more and more frends, Jews and non-Jews, are affected, Bamse and his family begin to realise the full horror of the Nazi's itnentions. Bamse's older brother Orlando becomes actively involved in the resistence; Bamse and his Jewish friend Anton are excited about being involved in running minor errands, which eventually become more daring and dangerous.I found this to be a deceptively simple story. Sometimes I felt that the storytelling suffered at the expense of conveying information about the war. What I really enjoyed was seeing the story from the initially naiive point of view of Bamse. The tone is at first quite light, but gets darker as the story develops. The writer also portrays the contradictions of war – some German characters are sympathetic, and some Danes are fully implicated in the atrocities. The episodes are often amusing, sometimes heart-wrenching.
Review by Anager
16/06/2015
Very decent and witty childrens book with a refreshingly civil tone. Good illustrations and a beleiveable storyline but with some faults: Uncle Johann breaks character by both chasing the servantgirl and confessing his love of Mom without any repercussions. The name of the paper Berlingske Tidende (Berlingske Times) is reproduced as "Berlingske Tiden" meaning either "Time of the Berlingske" or "The Berlingske Time", The meaning of BOPA is given as "Borgerlige Partisanar"/"Citizen Partisans" which is as correct as can be but omits both the detail of Borgerlig having the double meaning bourgouis(name of the Danish rightwing) as in non-communists and "ar" being the Swedish ending to plural nouns.The author misspells some placenames and ends rather abrupt but overall a good read.