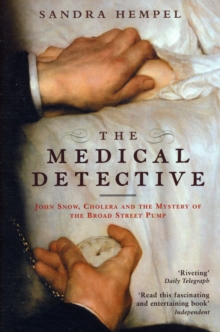 Medical Detective : John Snow, Cholera and the Mystery of the Broad Street Pump
Paperback
Description
In 1831, an unknown, horrifying and deadly disease from Asia swept across Continental Europe, killing millions in its path and throwing the medical profession into confusion.
Cholera is a killer with little respect for class or wealth.
When it arrived in Britain, its repercussions rocked Victorian England - from the filthy lanes of the Sunderland quayside and the squalid streets of Soho, to the great centres of power: the Privy Council, Whitehall and, the Royal Medical Colleges.
One man - alone and unrecognised - uncovered the truth behind the pandemic and laid the foundations for the modern, scientific investigation of today's fatal plagues.
John Snow was a reclusive doctor, without money or social position, who had the genius to look beyond the conventional wisdom of his day, and work out that cholera was spread through drinking water.
The book draws extensively on 19th century medical, political and personal records in order to describe what is both an important breakthrough for medical science and also a dramatic story with a cast of colourful characters, from the heroic to the frighteningly incompetent. The book is also full of fascinating diversions into aspects of medical and social history - from Snow's tending of Queen Victoria in childbirth, to the Dutch microbiologist Leeuwenhoek's deliberately breeding of lice in his socks; and, from Dickensian children's farms to riotous 19th century anaesthesia parties.
Information
Format: Paperback
Pages: 304 pages
Publisher: Granta Books
Publication Date: 01/08/2007
Category: European history
ISBN: 9781862079373
Free Home Delivery
on all orders
Pick up orders
from local bookshops
Reviews
Showing 1 - 1 of 1 reviews.
Review by vguy
16/06/2015
Gripping story well told ( apart from a few digressions here and there). The resistance of the establishment including Florence Nightingale to what appeared so obvious, simple and concrete; namely that Cholera is water-borne, thus calls for clean water. Shows the strong grip of the scientific paradigm (a la Thomas Kuhn): data and logic are powerless in the face of the accepted wisdom of the day. Snow as an outsider has no voice, though he had treated Q Victoria, for goodness sake. How high did you have to go to be in the in-crowd?). Food for thought in that all this squalor and ignorance was just 100 years before I was born. And more in reading this as the Legionnaire's disease breaks out in Edinburgh (source untraceable,1 death so far, friend living in the danger zone). Notice the book came out at the same time as "The Ghost Map" - on the same subject - which made a bigger splash.