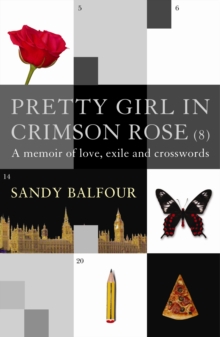 Pretty Girl In Crimson Rose
Paperback
Description
Half a million people a day do it in the Telegraph.
The Times claims almost as many, and the Guardian 300,000.
Most people remember their first time, and everyone has a favourite.
You can do it in bed, standing up, or on a train. You can do it alone, with a loved one or in groups. The Queen does it in the bath. It is not illegal, immoral or fattening. In fact it tops the Home Office list of approved entertainments for prison inmates.
Crosswords are a very British obsession. Crosswords are a very British obsession. Pretty Girl in Crimson Rose is a personal reminiscence and a guide to solving crossword puzzles.
But it is much, much more than a 'how-to' book. Each chapter is starts with a clue, and uses anecdote, history and autobiography to solve it, in the process describing something of what it means to love England.
In the process, we encounter The Best Crossword Clue Ever, The Most Beautiful Clue in the World 'Pretty Girl in Crimson Rose' and the eccentric personalities behind such legendary compilers as the Guardian's Araucaria and The Times'Ximenes. Reviews for Pretty Girl In Crimson Rose'An extraordinary memoir... a positive page turner... A mesh of journeys and destinations, politics and romance, it touches what is beyond words.' Sophie Ratcliffe, The Times'You don't have to be a crossword nut to appreciate Sandy Balfour's tremendously beguiling Pretty Girl in Crimson Rose (8).' John Walsh, Independent'A little gem of a memoir...
The book adds up to more than a sum of its parts and lingers in the memory long after the final page' Val Gilbert, Sunday Telegraph'Charming, knowledgeable and gripping' Nicholas Lezard, Guardian'A touching tribute to his partner... you close it feeling you have encountered a modest man of humour, compassion and common sense, who wears his wisdom lightly' Economist'A real charmer... this reviewer's verdict on Balfour's book: Touching success when foils clash at Elsinore (1,8,3) - A PALPABLE HIT' Kevin Jackson, Spectator'A book to make writers curse themselves for not having thought of the idea first, but to make readers hug themselves that Sandy Balfour did.
A delight' Alan Coren'Sandy Balfour's memoir Pretty Girl in Crimson Rose (8) is like a great crossword clue - I couldn't put it down until I'd worked it out.' Clive James
Information
Format: Paperback
Pages: 208 pages
Publisher: Atlantic Books
Publication Date: 11/03/2004
Category: Biography: general
ISBN: 9781843540892
Free Home Delivery
on all orders
Pick up orders
from local bookshops