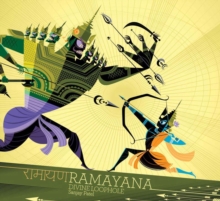 Ramayana : The Devine Loophole
Hardback
Description
Written and illustrated by a veteran Pixar animator with an amazing eye for color and action, "Ramayana" is the perfect blend of pop culture and art - a humorous and entertaining text that makes the story of the "Ramayana" (the most famous tale in Hindu mythology) accessible to the general reader. "The Ramayana" is the story of Rama, the blue prince, who is an avatar of the god Vishnu, sent to earth to battle a terrible demon, Ravana.
At the begininning of the story, Rama's stepmother deceives his father into banishing Rama and his wife Sita from the kingdom for fourteen years.
While in the forest, Ravana takes advantage of their vulnerability and kidnaps Sita and imprisons her in his palace on Sri Lanka.
Rama goes on a quest to rescure her with the help of an army of monkeys and bears - including Hanuman, the monkey king.
A great battle ensues, which, after great losses on both sides, Rama wins in a duel by firing a shot from an enchanted bow.
He then returns to his kingdom with Sita and reigns over an era of peace and prosperity.
Information
Format: Hardback
Pages: 208 pages, Full Colour
Publisher: Chronicle Books
Publication Date: 10/02/2010
Category: Myth & legend told as fiction
ISBN: 9780811871075
Free Home Delivery
on all orders
Pick up orders
from local bookshops
Reviews
Showing 1 - 3 of 3 reviews.
Review by lorax
16/06/2015
A beautifully, charmingly illustrated retelling of the Ramayana by Pixar animator Sanjay Patel. Patel's drawing style is distinctive (reminiscent of some of the opening sequences of <i>Monsters, Inc.</i>) and well-suited to this lighthearted retelling. It is not intended to cover the full story, but to hit the highlights; the illustrations are definitely the star here. (I especially loved the page showing the bears and monkeys searching for Sita.)
Review by kaipakartik
16/06/2015
Great art but the writing is nothing much to rave about
Review by WildcatJF
16/06/2015
A most excellent illustrated edition. Patel's artwork really gives his condensed narrative a lot of energy, amplifying the text's visual capabilities. The story itself is simplified, but Patel warns of this in advance. This is his interpretation, and how he envisions the world and characters of the Ramayana. I'd like to sample the full translation to get a better understanding of the story, but this was a marvelous beginning.