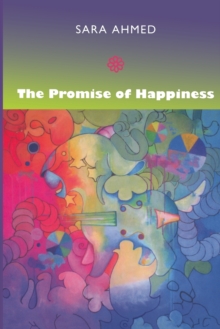 The Promise of Happiness
Paperback
Description
The Promise of Happiness is a provocative cultural critique of the imperative to be happy.
It asks what follows when we make our desires and even our own happiness conditional on the happiness of others: "I just want you to be happy"; "I'm happy if you're happy." Combining philosophy and feminist cultural studies, Sara Ahmed reveals the affective and moral work performed by the "happiness duty," the expectation that we will be made happy by taking part in that which is deemed good, and that by being happy ourselves, we will make others happy.
Ahmed maintains that happiness is a promise that directs us toward certain life choices and away from others.
Happiness is promised to those willing to live their lives in the right way. Ahmed draws on the intellectual history of happiness, from classical accounts of ethics as the good life, through seventeenth-century writings on affect and the passions, eighteenth-century debates on virtue and education, and nineteenth-century utilitarianism.
She engages with feminist, antiracist, and queer critics who have shown how happiness is used to justify social oppression, and how challenging oppression causes unhappiness.
Reading novels and films including Mrs. Dalloway, The Well of Loneliness, Bend It Like Beckham, and Children of Men, Ahmed considers the plight of the figures who challenge and are challenged by the attribution of happiness to particular objects or social ideals: the feminist killjoy, the unhappy queer, the angry black woman, and the melancholic migrant.
Through her readings she raises critical questions about the moral order imposed by the injunction to be happy.
Information
Format: Paperback
Pages: 328 pages
Publisher: Duke University Press
Publication Date: 06/04/2010
Category: Literary studies: general
ISBN: 9780822347255
Free Home Delivery
on all orders
Pick up orders
from local bookshops
Reviews
Showing 1 - 1 of 1 reviews.
Review by karl.steel
16/06/2015
No time to write an elaborate review. I'll just say I loved it. Eminently quotable, speaks to much of what I'm working on right now (whether it's happiness for whom, or critiquing activity vs passivity, or going after the affirmative turn, or hope as anxiety). I have my hesitations: for example: not sure why she concludes one chapter looking to filmic dreck like The Island, Antz, and Bee Movie for examples of unhappiness as 'an alternative social gift, as this dreck leads me to believe that the supposedly left political thrust of book could just as well have gone the other way. To my hesitations I say whatever: they'll have to wait.