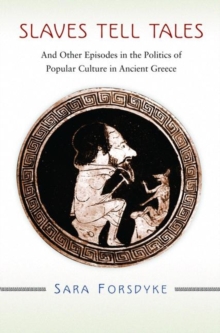 Slaves Tell Tales : And Other Episodes in the Politics of Popular Culture in Ancient Greece
Hardback
Description
Most studies of ancient Greek politics focus on formal institutions such as the political assembly and the law courts, and overlook the role that informal social practices played in the regulation of the political order.
Sara Forsdyke argues, by contrast, that various forms of popular culture in ancient Greece--including festival revelry, oral storytelling, and popular forms of justice--were a vital medium for political expression and played an important role in the negotiation of relations between elites and masses, as well as masters and slaves, in the Greek city-states.
Although these forms of social life are only poorly attested in the sources, Forsdyke suggests that Greek literature reveals traces of popular culture that can be further illuminated by comparison with later historical periods.
By looking beyond institutional contexts, moreover, Forsdyke recovers the ways that groups that were excluded from the formal political sphere--especially women and slaves--participated in the process by which society was ordered. Forsdyke begins each chapter with an apparently marginal incident in Greek history--the worship of a dead slave by masters on Chios, the naming of Sicyon's civic divisions after lowly animals such as pigs and asses, and the riding of an adulteress on a donkey through the streets of Cyme--and shows how these episodes demonstrate the significance of informal social practices and discourses in the regulation and reproduction of the social order.
The result is an original, fascinating, and enlightening new perspective on politics and popular culture in ancient Greece.
Information
Format:Hardback
Pages:288 pages, 1 Maps
Publisher:Princeton University Press
Publication Date:22/07/2012
Category:
ISBN:9780691140056