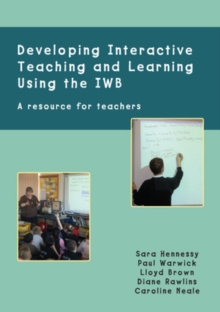 Developing Interactive Teaching and Learning using the IWB
Paperback / softback
Description
Do your students tune out from the IWB? No matter how 'whizzy' you make the technology, do you have trouble engaging them?Would you like some ideas to support a more interactive approach to using the IWB, so that your students are more motivated and involved in your lessons?Interactive Whiteboards (IWBs) are now found in the majority of UK classrooms and many teachers are highly technically competent with this technology.
Yet there is a need to develop expertise that capitalizes on such advanced technological equipment as an effective teaching and learning tool.
The aim of this resource is to support a more interactive approach to using the IWB, especially in whole-class teaching. Research into classroom practices shows that more interactive approaches - in particular engaging pupils in dialogue and discussion - promote better learning. This resource offers practical support and examples that help develop teaching practices that are more productive for learning, focused around the use of the IWB.This teacher resource has three key elements:The Professional Development Resource takes you through discussion, reflection and practical activities that focus on dialogue and the use of the IWBThe Reader explores key issues related to use of the IWB in primary and secondary classrooms, and directly supports the Professional Development ResourceThe Resource Bank offers video examples, sample classroom activities, explanatory screenshots, and IWB lesson templates, all available onlineTogether with its website containing the resource bank, this text is an essential toolkit for trainee and qualified teachers, as well as senior leadership teams."I fully recommend this set of extremely useful material containing a strong classroom voice endorsed by authoritative academic researchers.
Teachers will be drawn to this material, and will be able to review their own practice, reflect on the centrality of classroom spoken interactions, and investigate how best to use the expensive item of technology on the wall to get the very best from their investment.
The blend of resources, ideas and readings coupled with the video clips will provide a wealth of material to do just that.It will prove very useful for teachers with any length of experience, from those who might want to take a fresh look at their classroom practice to those new to the profession.
I will certainly draw from this in my CPD training with school staff."Sally Elding, Senior Adviser, Primary Elearning Team, The ICT Service, Cambridgeshire"This book ensures that 'interactivity' in the classroom does not just mean the casual interaction of students with software.
Instead, the authors show how to combine two very powerful tools - the IWB and talk - to create an effective and inclusive learning environment.
Chapters draw on classroom settings to show how use of the IWB can be enhanced by a focus on the quality of the talk that goes on between students, and between teacher and learners.
Authors use practical experience to highlight the things that make the difference to the use of the IWB - for example the establishment of exploratory dialogue, the thoughtful organisation of group work and the creation of straightforward but stimulating IWB resources.
In addition the text provides clear guidance for teachers on how and why to raise student awareness of the importance of their discussion when making or considering digital artefacts.
There is a strong focus on ensuring that both students and teachers understand best use of the IWB; and that contexts for learning are provided which really merit discussion.
The Teacher Development section considers use of the IWB in a dialogic classroom - and shows how best practice can be achieved, with useful resources, and a format for reviewing own learning.The Reader section provides insight into the aspects of talk that fit together to generate a dialogic classroom context, and crucially shows how use of the IWB is both enhanced by dialogue and contributes to students' capacity to take part in learning dialogues with one another.
The Resource Bank draws on a range of classroom contexts, providing examples to support teachers as they create their own lesson plans and ideas.The text is accessible and interesting, with complex ideas clearly explained, and the book is readily navigated.This book will enable teachers to plan for dialogue based on the motivating and interesting features of the IWB.
In particular it provides guidance for student use of the IWB, and creation of own resources tailored to learning needs.
Teachers who wish to have a focus on dialogue will find here a theoretically based, practical approach to ensuring that their students really benefit from interactivity, with the IWB and with each other."Dr Lyn Dawes, Educational Consultant"This valuable resource provides both a theoretical framework and pedagogic guidance to use the interactive whiteboard to its full potential with learners of all ages.
Written by established classroom practitioners and academic researchers, it provides a set of resources which are grounded in the reality of classroom life, but underpinned by academic rigour which make it useful to both student and experienced teachers alike."Professor Gary Beauchamp, Professor of Education and Director of Research, School of Education, Cardiff Metropolitan University, UKContributors: Lloyd Brown, Simon Knight, Caroline Neale, Diane Rawlins, Rupert Wegerif
Information
Format: Paperback / softback
Pages: 152 pages
Publisher: Open University Press
Publication Date: 16/01/2014
Category: Teaching skills & techniques
ISBN: 9780335263165
Free Home Delivery
on all orders
Pick up orders
from local bookshops
Also by Sara Hennessy