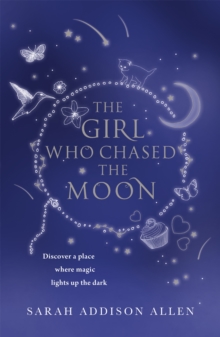 The Girl Who Chased the Moon
Paperback
Description
Emily Benedict came to Mullaby, North Carolina, hoping to solve at least some of the riddles surrounding her mother's life.
But the moment Emily enters the house where her mother grew up and meets the grandfather she never knew, she realises that mysteries aren't solved in Mullaby, they're a way of life.
Here are rooms where the wallpaper changes to suit your mood.
Unexplained lights skip across the yard at midnight. And a neighbour, Julia Winterson, bakes hope in the form of cakes, offering them to satisfy the town's sweet tooth - but also in the hope of rekindling a love she fears might be lost forever.
Can a hummingbird cake really bring back a lost love?
Is there really a ghost dancing in Emily's backyard?
The answers are never what you expect. But in this town of lovable misfits, the unexpected fits right in.
Information
Format: Paperback
Pages: 272 pages
Publisher: Hodder & Stoughton General Division
Publication Date: 01/02/2011
ISBN: 9781444706635
Free Home Delivery
on all orders
Pick up orders
from local bookshops
Reviews
Showing 1 - 3 of 3 reviews.
Review by phoebesmum
16/06/2015
Two parallel small-town love stories: one the now-adult high school misfit, the boy who got away, and the secret that still lies between them; the other a teenage orphan who learns that the town holds her mother to blame for a years-old calamity, and Win, the rich boy who doesn't care. Oh, and there's a giant.Make no mistake: I like this author – her books are romantic fluff with a smattering of magic, and some days that's all you want out of life. But: she can be derivative. Her earlier book, 'Garden Spells', was strongly reminiscent of the film (not the book) 'Practical Magic'; in this one, Win and the other men in his family never leave the house at night because of a freakish skin condition – no, they don't sparkle, but that's not far off – plus he has a habit of sneaking up to his girlfriend's room and watching her sleep. Sound familiar? (PS: That was creepy in 'Twilight', and it's still creepy now. Authors, please note.)
Review by AdonisGuilfoyle
16/06/2015
Absolutely enchanting. Part chick lit, part fairy tale, wholly unexpected, I enjoyed every line and finished in a day (and a work day, at that). There were some random details that made no sense - what was the purpose of the wallpaper? - and the ending was slightly too twee for my taste, but Sarah Addison Allen has a magical way with words. I love how she describes an argument as bing like 'words strung in the air like a garland', and the way one character remembers his late wife as the colour green and the scent of new paper. Poetical and nonsensical, maybe, but I love such vivid and thoughtful imagery.The story is deceptively simple, with an odd supernatural twist thrown in, but like Emily, I felt I had to find out all the answers. After the death of her mother, a young girl goes to stay with her grandfather in the mystical town of Mullaby, North Carolina. Like every small community, everybody knows everybody else's business in Mullaby, and the murky secrets of the past instantly link Emily to her next door neighbour, Julia, and draw her with magnetic force to Win Coffey, the enigmatic young son of Mullaby's wealthiest family. I felt a personal connection with Emily's circumstances - bar the wallpaper - and her frustration at fighting a conspiracy of silence, which is perhaps what initially captured my imagination, but I also loved the lyrical narrative and drooled over the mouthwatering cakes that Julia bakes (I think I must have Sawyer's 'sweet sense' also!)Delicious.
Review by sunnycouger
16/06/2015
There is something about the way that Sarah Addison Allen writes that I just love. She mixes everything into a book that I love and I always find myself attached to her characters and cheering on their stories. <br/><br/>The premise of this book is a young girl comes home to stay with her grandfather after her mother died. Her grandfather is a giant, but in a town like that it isn't that unusual. She shunned by the town and discovers it is because of things her mother had done when she was a teenager. Emily meets Win, an odd young man from the family most hurt by her mother's actions whose family seems determined to keep them away from each other and who is fighting against a long lasting family tradition.<br/><br/>She also meets Julia, a woman who was at school with her mother, who is determined that she is leaving the town in a few months. Julia has her own unhappy history in the town and spends her time purposefully not laying roots down and deliberately trying to avoid Sawyer, the boy she had been in love with 18 years earlier and who is trying to right his own particular wrongs with her.<br/><br/>All the stories tie together, and when you sprinkle in a dose of magic such as wallpaper that changes according to mood, people who light up in the dark, and people who see glittery trails leading to cakes, it all leads to the near perfect book.<br/><br/>The only thing that prevented me giving this five stars is that I wish it had been a few chapters longer. The ending was fine (sequel at one point soon?) but I just wanted a couple of chapters after the reveals to see the pay-off. <spoiler>I will say though that the image of Emily and Win on the bench at the end was perfect though.</spoiler><br/><br/>All in all, it was another wonderful book and exactly what you expect when you pick up her books. I adore the worlds she keeps creating and I cannot wait to pick up her new book.