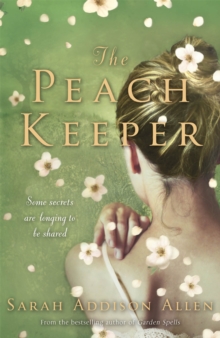 The Peach Keeper
Paperback
Description
Welcome to Walls of Water, North Carolina, a place where secrets run thicker than the town's famous fog.
Once upon a time, Willa Jackson's family owned the beautiful house on the top of the ridge.
Now it symbolises her family's ruin and a legacy Willa longs to escape from.
Paxton Osgood also yearns to break free, especially from her parents' expectations, and the heartbreak of unrequited love.
Desperate for a distraction, she decides to restore the empty mansion to its former glory.
But the discovery of a long-buried secret, a friendship that defies time, and a touch of magic, will transform both women's lives in ways they would never have expected.
Information
Format: Paperback
Pages: 320 pages
Publisher: Hodder & Stoughton General Division
Publication Date: 01/01/2012
ISBN: 9781444706673
Free Home Delivery
on all orders
Pick up orders
from local bookshops
Reviews
Showing 1 - 5 of 5 reviews.
Review by phoebesmum
16/06/2015
Sarah Addison Allen's books all stick to an established formula: they're all set in North Carolina, all in small towns where far too many people know one another's business, generally feature at least one character from the wrong side of the tracks, and all have a thread of the supernatural running through them. They're light, quick and charming reads, but I couldn't help feeling, in this case, that the same old bucket had maybe gone to the same old well at least one too many times. It's likeable, but I've read it all before. In addition, the supernatural element here feels clumsily tacked on and out of place.
Review by amberwitch
16/06/2015
A delightful little story set in the deep south.The magical realism aspect is toned down as compared to the authors earlier books, but it is just as lovely read. Pure escapism.Very nice writing, propping up a relative simple plot.The themes are, as in the other Sarah Addison Allen books, predictable - romance and friendship. Althogh the story is engrossing and engaging, tthe ending is very predictable, and even a little heavyhanded - making the sweetnes of the story very obviously empty calories.I don't mind upbeat and positive novels at all, and when they are as wellwritten, and has such wellrounded and likeable characters as this story, I enjoy them a lot. This novel, however, gave me a bit of an empty feeling afterwards. The simplistic resolution to all the conflicts of the plot. The emphasis on romance as the solution to all that ails you. Although the friendship theme was wonderful, it seemed as if it was abandoned as if only romance gives the closure required.
Review by plunkinberry
16/06/2015
This was the first story I'd read from Ms. Allen and I thoroughly enjoyed it. I didn't know what to expect so I was surprised by how well written it was. It was light and quick, but a nice enjoyable read. Willa, Paxton, Colin, and Sebastian were all good characters; the plot was interesting and emotional. Good enough that I'll investigate other work by Ms. Allen.
Review by VirginiaG
16/06/2015
I love Sarah Addison Allen's books. I love the magical aspect of her stories. Her characters are likable and she makes me believe. Though I did like this story, it didn't have the zing of her earlier books. It felt like something was missing. This one was about two women who grew up in the same community, one with money, one without and a house with a past. Willa came from a middle class family and her grandmother had lived in the house as a girl until her family lost the home. Paxton comes from a wealthy family and she seems more involved in charitable work instead of a real career. Her grandmother was a friend of Willa's grandmother when they were girls. Now both grandmothers are in a nursing home. Paxton is Chairwoman of a charitable organization started by the grandmothers and she is in the middle of renovating the old mansion. Her brother is a landscape architect and is taking care of the exterior. Willa has always been curious about the house and as the others are working on it, she watches from a distance. When a body is found on the property, the mystery begins. Even though this was not my favorite book by this author, it was still an enjoyable read. I have read everything she has written so far and look forward to her next story.
Review by 7804
16/06/2015
This book was an enjoyable combination of romance, mystery, and character. The characters are well drawn and likable. The mystery's primary purpose is bringing the characters together and moving them forward, not keeping readers on the edges of our seats. The romance was enough to make for a satisfying ending, but it was never predictable enough to know how it would turn out for all four main characters. I'm not a big reader of supernatural stories, but this one pulled off its magical elements well...just enough to give atmosphere, where all of it could almost be read as superstitions of the characters, but not enough to be off-putting to readers who aren't drawn to magic and ghosts. The setting in a small town in the mountains of North Carolina is fascinating and compelling and helps give this novel a feel I haven't found elsewhere. All in all, it is an easy, enjoyable read.