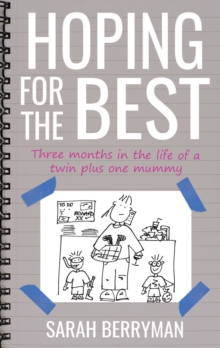 Hoping For The Best : Three months in the life of a Twin plus one Mummy
Paperback / softback
Description
Parenting book Hoping for the Best: Three months in the life of a twin plus one mummy offers a unique day-to-day glimpse into the challenges and craziness thrown at a mum to three young boys.
Sarah has "real children". They did not sleep through from day one. They did not master baby-led weaning. They have all had the norovirus, chicken pox and two of the three have had nits.
They have bitten and been bitten. One has a hearing aid, one wears splints at night to stop him walking on tip toes and one has a speech delay.
They play a little, bicker a lot, and are friends and enemies in equal measure.
Hoping for the Best gives a rare insight into daily life with identical twins, and the dynamics between them, their younger feistier sibling and the rest of the family.
The book will appeal to other parents and those who enjoy humorous writing and family life biographies.
Started as a diary, the book was born when other school mums suggested that this would be just the kind of book that they would love to read - not a parenting manual, not a book about becoming a new mum but the true reality of life as a mum with identical twins plus one.
With Sarah's mantra "Hoping for the best, prepared for the worst and unsurprised by anything in between", a quote from the American author Maya Angelou, woven through the diary, this account portrays an indelible impression of resilience and humour through the colourful challenges of each and every day.
Information
Format: Paperback / softback
Pages: 336 pages
Publisher: Troubador Publishing
Publication Date: 15/12/2016
Category: Memoirs
ISBN: 9781785899485
Free Home Delivery
on all orders
Pick up orders
from local bookshops