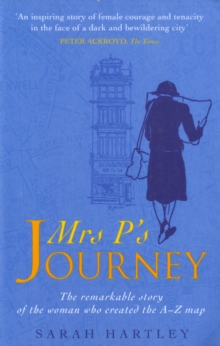 Mrs P's Journey : The Remarkable Story Of The Woman Who Created The A-z Map
Paperback
Description
MRS P'S JOURNEY is the enchanting story of Phyllis Pearsall.
Born Phyllis Isobella Gross, her lifelong nickname was PIG.
The artist daughter of a flamboyant Hungarian Jewish immigrant, and an Irish Italian mother, her bizarre and often traumatic childhood did not restrain her from becoming one of Britain's most intriguing entrepreneurs and self-made millionaires.
After an unsatisfactory marriage, Phyllis, a thirty-year-old divorcee, had to support herself and so became a portrait painter.
It is doing this job and trying to find her patron's houses that Phyllis became increasingly frustrated at the lack of proper maps of London.
Instead of just cursing the fact as many fellow Londoners probably did, Phyllis decided to do something about it.
Without hesitation she covered London's 23,000 streets on foot during the course of one year, often leaving her Horseferry Road bedsit at dawn to do so.
To publish the map, and in light of its enormous success, she sets up her own company, The Geographer's Trust, which still publishes the London A-Z and that of every major British city.
MRS P'S JOURNEY is the account of a strong, independent woman who has left behind an enduring legacy.
Information
Format: Paperback
Pages: 352 pages
Publisher: Simon & Schuster
Publication Date: 04/03/2002
Category: Biography: general
ISBN: 9780743408769
Free Home Delivery
on all orders
Pick up orders
from local bookshops
Reviews
Showing 1 - 2 of 2 reviews.
Review by herschelian
16/06/2015
Everyone in London, and most of the visitors to this city, use the 'A-Z of London' without any idea of the remarkable woman who devised the idea of such a book, mapped the whole city and singlehandedly started a whole branch of publishing. This is the story of that women, Phyllis Pearsall.
Review by eleanor_eader
16/06/2015
Mrs. P's Journey explores the life of Phyllis Pearsall, the woman who created the first* A-Z map of London. It's a biography that takes a detailed look at the lives of her parents, so perhaps 'family biography' would be a better description. Phyllis Pearsall's father was self-centred, bad-tempered and obsessed with proving himself by achieving monetary worth, an ambition that led him to start a map-making company, a business ownership almost ridiculously at odds with his impatient temperament. Her mother was, unfortunately, an independent spirit with many great qualities who nevertheless ruined herself against the rocks of her first and second marriage… from this quagmire of violent, often embarrassing background, Phyllis emerged as an intelligent, motivated, capable young woman with an artistic gift and her father's determinedness, whose personal motto was on we go. This is a fantastically interesting story, from both a human and historical viewpoint, moving and for the most part, well told. There are two flaws in Hartley's approach, and they spoil surprisingly little… the first is the author's inability to stick to a timeline. I'm not talking about an occasional interjection of an earlier anecdote; it's more as though Sarah Hartley has a terminal case of the 'oh-that-reminds-me's, peppering any given scene with back-story and hardly caring whether things are told in chronological order; nothing is set up before-hand, which gives the writing a random if adventurous feel, quite well suited to its subject but not very comfortable for the reader who must pay closer than usual attention not to what is happening, but when.The other flaw, not really obvious until you do some research, is that Phyllis herself was an 'imaginative' memoir writer, shall we say, and the author of Mrs. P's Journey hasn't even stuck to the facts therein religiously. There's a line where biography becomes biographical fiction, and I sometimes felt Ms. Hartley straying towards it. Despite that, I enjoyed this book. It described a life that I found fascinating and admirable; 'fearless Phyllis' might have inherited her father's sense of the dramatic, but she tempered it with reasonableness, friendliness, and incredible achievement.*Sort of. The first marketable A-Z, anyway.