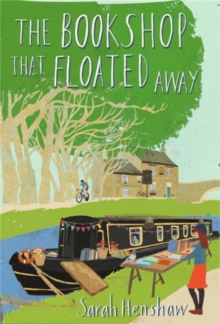 The Bookshop That Floated Away
Paperback
Description
In early 2009 a strange sort of business plan landed on the desk of a pinstriped bank manager.
It had pictures of rats and moles in rowing boats and archaic quotes about Cleopatra's barge.
It asked for a GBP30,000 loan to buy a black-and-cream narrowboat and a small hoard of books.
The manager said no. Nevertheless The Book Barge opened six months later and enjoyed the happy patronage of local readers, a growing number of eccentrics and the odd moorhen. Business wasn't always easy, so one May morning owner Sarah Henshaw set off for six months chugging the length and breadth of the country.
Books were bartered for food, accommodation, bathroom facilities and cake.
During the journey, the barge suffered a flooded engine, went out to sea, got banned from Bristol and, on several occasions, floated away altogether.
This account follows the ebbs and flows of Sarah's journey as she sought to make her vision of a floating bookshop a reality.
Information
Format: Paperback
Pages: 272 pages
Publisher: Little, Brown Book Group
Publication Date: 03/04/2014
Category: Memoirs
ISBN: 9781472108050
Free Home Delivery
on all orders
Pick up orders
from local bookshops
Reviews
Showing 1 - 3 of 3 reviews.
Review by bgknighton
16/06/2015
I want to like it more, but it is too precious and self-centered. She had a good idea, one that makes me wish I could do, but she just seems so annoying a person...... I like the touch where she tells the story from the boat's point of view, though.
Review by shelleyraec
16/06/2015
In 2009, Sarah Henshaw had a brilliant idea - to transform a narrow boat, named Joseph, into a bookshop, called The Book Barge, but by 2011, battered by the recession, the growth in digital book sales and Henshaw's self-confessed terrible book-selling skills the store, moored in the Midlands, was on the verge of closing. Desperate to keep the business afloat, Sarah came up with the idea to traverse the canals of England for six months to raise awareness of the plight of independent booksellers and, of course, sell books.The Bookshop That Floated Away is the story of Henshaw's adventures through the waterways of Britain, negotiating its hundreds of locks, mooring where able, and selling the odd book, supplementing the costs of her journey, largely financed by her parents and an extraordinarily generous ex boyfriend, by bartering stock for essentials like meals, alcohol, haircuts and bathroom privileges along the way. Passionate about books and literature but lacking business savvy, and at times common sense, the journey was not an easy one, hampered by break-downs, break-ins and break-outs.I expected to love this book, but unfortunately I finished it feeling rather disappointed. I'm not sure if it was the author or her writing style, that I had trouble connecting with, but I think it was probably a mixture of both. I found Henshaw's attitude irritating at times, and there is a weird section written from the perspective of Joseph, the boat. Still, I love the whole idea of The Book Barge and I did find Sarah's adventures interesting, so I wouldn't discourage anyone from reading it.The Book Barge is now moored permanently in the Barton Marina, open weekends and holidays (at Henshaw's whim). Check The Book Barge Facebook page for details about opening hours and special events.
Review by louis69
27/08/2015
I found this an unusual book - there were parts that I enjoyed for example the section where the author related the link between Dickens's "Our Mutual Friend" and the Thames. And there were other parts such as the long section written in italics (so hard to read) where she anthropomorphises Joseph, her narrowboat, and he tells his version of the story. This I found really awkward.I wanted to feel sorry for her as I support having bookshops but I can't, and I confess I got a sample on Kindle and then borrowed it from Palmerston North City Libraries. Maybe I expected a different kind of book which led to my disappointment. Attractive cover.