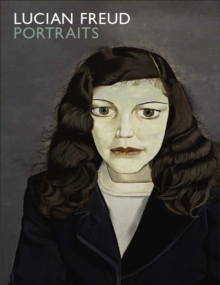 Lucian Freud Portraits
Hardback
Description
'Everything is autobiographical and everything is a portrait, even if it's only a chair.' Portraits were central to the work of Lucian Freud.
Working only from life, the artist claimed 'I could never put anything into a picture that wasn't actually there in front of me.' Lucian Freud Portraits surveys his portraits and figure paintings from across his long career.
Drawing together the finest portraits from public and private collections around the world, the book explores Freud's stylistic development and technical virtuosity.
A series of previously unpublished interviews conducted by Michael Auping between May 2009 and January 2011 reveal the artist's thoughts on the complex relationship between artist and sitter, the particular challenges of painting nudes and self-portraits, and his views on other painters he admired.
Freud's psychological portraits are often imbued with a mood of alienation.
A private man, the artist's close relationship with his sitters was played out behind the closed door of the studio.
Frequently there is the sense of an emotionally charged drama unfolding, but his subjects remain elusive. Sitters represented in the book include family members, particularly his mother, Lucie, and artists such as Frank Auerbach, Francis Bacon and David Hockney.
In the early 1990s Freud produced a series of monumental paintings of the performance artist Leigh Bowery and Bowery's friend Sue Tilley, the 'benefits supervisor', examples of which are reproduced in this book. Authoritative survey of more than 130 works, accompanying the first major exhibition focussed on seven decades of Freud's portraits.
Exhibition at the National Portrait Gallery, London (9 February-27 May 2012) and the Modern Art Museum of Fort Worth, Texas (2 July-28 October 2012).
Includes new, illuminating interviews with Freud by Michael Auping.
Contribution by John Richardson (friend of Freud and biographer of Picasso).
Features an illustrated chronology of Freud's life. Essay and interviews with Lucian Freud by Michael Auping With a contribution by John Richardson This book accompanies the National Portrait Gallery's major Spring 2012 exhibition on Lucian Freud Portraits and the subsequent tour to Fort Worth, Texas in July 2012
Information
Format: Hardback
Pages: 256 pages
Publisher: National Portrait Gallery Publications
Publication Date: 08/10/2011
ISBN: 9781855144415
Free Home Delivery
on all orders
Pick up orders
from local bookshops