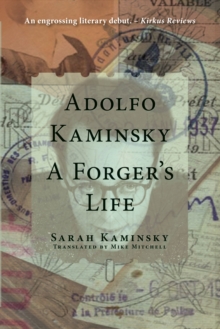 Adolfo Kaminsky: A Forger's Life : A Forger's Life
Paperback / softback
Description
[An] engrossing literary debut...Writing in Adolfo's voice gives this suspenseful narrative candor and immediacy. - Kirkus Reviews Adolfo Kaminsky: A Forger's Life is "worthy of the best spy novels" and tells the story of Sarah Kaminsky's father, "the genius-forger who committed his know-how and convictions to serve the French Resistance during World War II, saving thousands of Jewish families, and many others over the course of 30 years for various causes around the world." - TED.com A detailed and touching story traversing a century in clandestine shadow crossings, where Adolfo's skill meant life...or death. - Liberation, France Riveting. - Haaretz, Israel Technical prowess, creativity, and self-denial drive the plot in the incredibly lucky life of Adolfo Kaminsky narrated in this exciting historical document. - Elle Magazine, France; 2010 Reader's Choice Award Undoubtedly one of the most captivating books of the season. - Paris Today A pointed, sober biography ...of one of the world's best forgers. - Der Spiegel If made into a film, the life of Adolfo Kaminsky would have the ingredients of suspense thriller, war movie, historical tragedy, intimate drama, romantic comedy and scenes of terror. - O Globo, Brazil A thrilling book. - la Repubblica Federal, Italy Kaminsky has lived, in the shadows, the brightest hours of the Resistance. - Le Monde Best-selling author Sarah Kaminsky takes readers through her father Adolfo Kaminsky's perilous and clandestine career as a real-life forger for the French Resistance, the FLN, and numerous other freedom movements of the twentieth century.
Recruited as a young Jewish teenager for his knowledge of dyes, Kaminsky became the primary forger for the French Resistance during the Nazi occupation of Paris.
Then, as a professional photographer, Kaminsky spent the next twenty-five years clandestinely producing thousands of counterfeit documents for immigrants, exiles, underground political operatives, and pacifists across the globe. Kaminsky kept his past cloaked in secrecy well into his eighties, until his daughter convinced him to share the details of the life-threatening work he did on behalf of people fighting for justice and peace throughout the world.
Information
Format: Paperback / softback
Pages: 256 pages
Publisher: DoppelHouse Press
Publication Date: 04/10/2016
Category: Memoirs
ISBN: 9780997003475
Free Home Delivery
on all orders
Pick up orders
from local bookshops