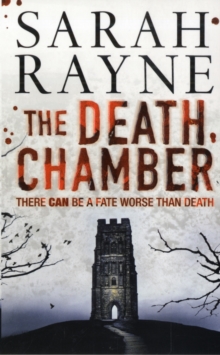 The Death Chamber
Paperback
Description
'She has a crisp and intelligent style, and a real way with tension' MO HAYDER Calvary Gaol, standing bleak and forbidding on the Cumbrian hillside, exerts a curious hold over Georgina Gray.
For her family's history is closely bound up in its dark and terrible past.
It's there that her great-grandfather worked as a prison doctor in the 1930s; where his involvement in a bizarre experiment would change the course of his life forever.
TV presenter Chad Ingram is fascinated by Calvary too.
For he plans to conduct a new experiment in the now-disused gaol - an experiment that will take place in the brooding desolation of the old execution chamber.
Chad's experiment and Georgina's curiosity will have horrifying consequences.
For someone has their own reasons for suppressing the shocking truth about Calvary.
Someone who will go to any lengths to ensure the past remains buried . . .
Information
Format: Paperback
Pages: 560 pages
Publisher: Simon & Schuster
Publication Date: 04/08/2008
Category: Crime & mystery
ISBN: 9781416522232
Free Home Delivery
on all orders
Pick up orders
from local bookshops
Reviews
Showing 1 - 4 of 4 reviews.
Review by phoebesmum
16/06/2015
Sarah Rayne writes dark-secret-of-the-past thriillers that rely heavily on coincidence. n this case, unfortunately, so much so as to be ridiculous.
Review by adpaton
16/06/2015
The coverline of the books reads 'there CAN be a fate worse than death' which is totally absurd and, together with the admittedly atmospheric but irrelevant picture is completely misleading. Following an emotionally and financially ruinous break-up, Georgina Grey is intrigued to recieve a letter informing her she stands to benefit, albeit marginally, from a bequest made by her great grandfather, once a prison doctor at Calvary, the notorius 'murderer's gaol', in remote Cumbria.Dr Walter Kane beqeathed a house to a now defunct society for psychic research: the house will be sold and whatever remains once the debts have been paid will go to Georgina. She sets off north immediately, is lodged in the house and meets with the Vincent Meade, the secretary of the Caradoc Society, and a local lawyer.Investigative reporter Chad Ingram and his team of researchers are also in town, preparing to shoot a programme on Calvary gaol, and Georgina soon meets up with them and recomes involved in the process, going so far as to spend a night in the execution chamber. What was the true story behind Neville Fremlin, the 'silver-tongued killer' hanged in 1938? Or the Irish patriot/English traitor, Nicholas O'Kane, excuted in 1917? And what about the delicately beautiful Elizabeth Molland, only 19 but with several kills to her name already, sentenced to be hanged in 1939? Lovely Liz was the only person to escape Calvary and it was certain some of the prison staff were involved.And why, over 60 years later, is some-one so desperate to keep the events of those dark days in the late 1930s secret that he is prepared to kill? A well-written thriller which while certainly not supernatural is full of eerie suspence and a malevolent, brooding atmosphere.
Review by devenish
16/06/2015
Calvary Prison has for years now been empty and abandoned. In the past however it was used for holding long-term prisoners and as a place of execution. Many a murderer,both male and female have been hung in the execution chamber here.Now a television presenter and his team are hoping to obtain permission to spend a night locked in the room where these hangings took place. The two who end up there are a young woman whose family had strong connections with Calvary and a man who is blind.On the plus side I found this a fast paced story which for most of the time really gripped me. However there were just too many coincidences for my liking and the story was extremely and unnecessarily convoluted .So although good in parts,this was for me the weakest of the Sarah Rayne books and thus I give it a 4.A final point regarding the cover - 'That is not a prison,that is a church tower minus the church. Don't the people who put the book together not read even a precis of the thing. Words fail me !
Review by Carpe_Librum
16/06/2015
I found out about this author in "Good Reading Magazine" and I was so glad I did! What appealed to me was that every book by this author has a haunting, creepy historical building, and she brings it to life in the book. This was very true in "The Death Chamber" where the focus of the story was Calvary Gaol.The blurb on the back of the book doesn't really do it any justice. I enjoyed multiple plots interwoven with many twists and turns and a few surprises. I was left wanting to follow each of the plots further, but that was what kept me turning the pages into the night. In fact, one of the surprises had me going back to the start to read over a particular section. (In the same way you want to watch "Sixth Sense" again when you know the twist).Based on the title of the book, you could be mistaken in thinking that this book will be full of bloodshed and carnage, but in fact it's not. Trust me, you don't need that to make you jump. Rayne does a magnificent job of describing the gaol, you almost feel like you're there. I can't wait to read more of her books.